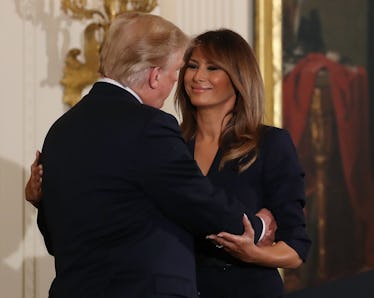 Donald Trump's Explanation For Melania's "I Don't Care" Jacket Has Me Facepalming
Mark Wilson/Getty Images News/Getty Images
On June 21, Melania Trump flew to Texas to visit an immigrant children's shelter, but it was her inappropriate outfit choice that really drew our attention. Well, Donald Trump's tweet about Melania's jacket is arguably the most Trump tweet yet. I'm cringing.
On June 21, Donald Trump took to Twitter to defend the controversial jacket Melania Trump wore while boarding the plane to McAllen, Texas. On the back of her green military-style jacket, the words "I really don't care, do u" are scribbled in huge font. Naturally, people called out the insensitivity of her style choice — and in response to the utter backlash the first lady endured, Donald Trump wrote on Twitter that Melania's jacket is in reference to the "fake news media." Oh, OK then.
This strikes quite the different chord than what Melania Trump's spokesperson, Stephanie Grisham, said in a statement to CNN. According to Grisham, the jacket doesn't mean anything, and Trump was sporting it simply in the name of fashion.
She said,
It's a jacket. There was no hidden message. After today's important visit to Texas, I hope this isn't what the media is going to choose to focus on.
Speaking of not caring, I really am not interested in hearing what Trump has to say on this topic. The recent crisis of the separation of immigrant children from their families at the border has everyone up in arms at the moment, and even though Donald Trump signed an executive order to stop this separation, it still doesn't address reuniting the over 2,000 children who have already been separated from their families.
Are Melania and Donald Trump even on the same page anymore? It's safe to say that there's some serious miscommunication happening between the two, and New York Times White House correspondent, Maggie Haberman, took to Twitter on June 21 to call out this awkward interaction.
Melania's visit to the shelter might have been well intentioned, but really, did no one think to stop her from throwing that jacket on before walking out in public? I have no doubt that the White House was expecting the first lady's visit to be well received by the public, but unfortunately for the Trump administration it had the exact opposite reaction. Leave it to the Trump administration to have their plans backfire to this extent. I, for one, am still picking my jaw off the floor.
But the optics of the whole thing aside, what's the exact deal behind this executive order? To be honest, your guess is as good as mine. On June 20, Trump spoke to reporters during the signing about the purpose behind the order, and how it will "keep families together" while also "having strong borders." Hm, alright then.
"It's about keeping families together, while at the same time being sure that we have a very powerful very strong border, and border security will be equal if not greater than previously," Trump told reporters. He continued,
So we're going to have strong very strong borders, but we're going to keep the families together. I didn't like the sight or the feeling of families being separated. It's a problem that's gone on for many years, as you know, through many administrations. And we're working very hard on immigration, it's just been left out in the cold. People haven't dealt with it, and we are dealing with it.
Following the announcement that Trump had signed the executive order, Twitter immediately raised a valid argument that the signing is really just fixing a problem that Trump created himself.
Even though Melania Trump might have distracted us momentarily with that outrageous ensemble of hers, let's not forget that family separation is a problem that we need to address head on. Let's continue this fight until the end.