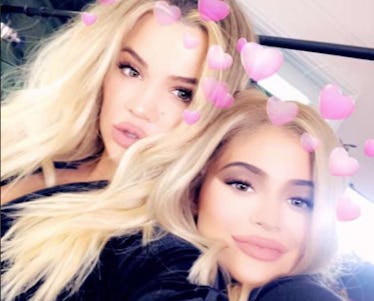 Kylie Jenner Congratulated Khloé K For Giving Birth & It's Not What You'd Expect
Instagram/Khloé Kardashian
We have reached the end of the Great Kardashian Baby Boom of 2018! Khloé Kardashian and Tristan Thompson finally welcomed their little girl to the big, big world and fans couldn't be happier. One special person, in particular, reacted publicly to Kardashian welcoming her baby girl. Kylie Jenner's reaction to Khloé Kardashian's baby is honestly a little underwhelming. Considering these two went through their first pregnancies together, I was thinking there'd be more!
According to a report from TMZ, Kardashian gave birth in the early morning hours of April 12. We're still not sure what the bundle of joy's name is, but we know it's gonna be something perfect.
Kardashian's baby is also the new cousin of Jenner's little one, Stormi. So, how did Jenner congratulate Kardashian giving birth? Using a Snapchat filter. For those in the Los Angeles area, a Snapchat filter was available to users that read, "Kongrats, Khloe! It's a girl!" Jenner uploaded a photo from inside a car looking out at the street along with a filter. Not even a selfie or a video... just the road and the top of the dashboard.
My theory is that Jenner was in the passenger seat when she heard the news and the Snapchat filter was the quickest way she could acknowledge the birth of her new niece. That works, right? Maybe.
It has been a particularly wild year for these two sisters as they both embarked on their first pregnancies at the same time. In September of 2017, news broke that both Kylie Jenner and Khloé Kardashian were expecting (alongside Kim Kardashian, who was having her third child via surrogate) and the world was in full hysteria. Jenner and Kardashian particularly bonded over becoming new moms.
They are so close, in fact, Kardashian found out the sex of her own baby from her little sister. Kardashian's doctor called Jenner with the news first, and Keeping Up With The Kardashians caught the whole reveal on camera. Jenner lovingly squealed, "You're having a girl!!!"
The sisters also have one amazing pregnancy picture circulating that I sometimes look at when I'm bored at work.
What, just me?
Kardashian captioned the photo:
Congratulations My Sweet Kylie! What a magical ride it's been! I'll miss you bumping along with me. Never in a million years did I think we would do this together but it's been that much more special because of it. God is so great!! He had His plan all along! I love you little mama 💕 love big mama
I die.
After initially being shocked at the news of having a baby girl, Kardashian quickly got over it. She tweeted about how excited she was for her daughter to hang out with her cousins, Chicago and Stormi. She said,
God gives us what we need! His timing is never wrong! my hormones were IN RARE FORM for that news
I am now so excited my daughter will have forever best friends with Chicago and Stormi!! God is great!!! Thank you Lord for our princess
In general, Kardashian has been relying on her family through it all. A source told E! News,
Kourtney Kardashian and Kim Kardashian have been giving her a lot of pregnancy tips and Khloe calls them for every little question she has. She is really relying on her sisters through this pregnancy. Kourtney always shares her health tips.
The source added,
The whole family is especially happy for Khloe's pregnancy, and thinks that this is going to be her best year yet. They all think she deserves it and is in a really good place in her life.
Plus, if Chicago, Stormi, and Khloé's daughter's relationship is anything like North and Penelope's, it's almost guaranteed these three will be peas in a pod. North and Penelope have such a tight relationship, it's really easy to see how close-knit this famous family really is and how much time they actually spend together.
Congratulations Khloé, Kylie, Kim, and everyone!
Check out the entire Gen Why series and other videos on Facebook and the Bustle app across Apple TV, Roku, and Amazon Fire TV.