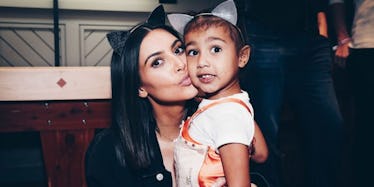 These Pics Of North West & Penelope Disick Prove They're The Cutest BFFs In The World
Handout/Getty Images
Cousins North West and Penelope Disick prove they have the greatest friendship once again. The two are basically inseparable. That's why these baby photos of North West and Penelope Disick are adorable and totally friendship goals. The adorable cousins and obviously best friend duo are shown hugging and smiling toward the camera in a rare shot by Kim K. They're shown hugging their adorable friend Ryan, and it's the cutest thing ever. How sweet is that? I want to babysit the Kardashian kids. They cute.
The lovable cousins have been BFFs since birth and they're lucky. I mean, what's better than having a family member as your best friend? Absolutely nothing.  Kim K shared a candid shot of her 4-year-old daughter and 5-year-old niece to her Instagram story and I said, "aww" out loud... alone. It was weird.
Penelope, the daughter of Kourtney Kardashian and Scott Disick, wore a black shirt and denim cut-off shorts, with adorable matching sneakers. North wore a bright purple sweater dress and a pair of white sneakers. They even have the same style!
So who's the little girl North and Penelope are hugging? Ryan is the daughter of Kanye West's PR rep, Tracy Nguyen Romulus. It's all coming together.  
Kim K also shared this moment of the precious girls sitting on a staircase. The besties are smiling wide as North plays with an iPad, and Penelope cuddles up with a dog. OMG, that dog is cute AF. Is it real?
On Aug. 11, 2017, Kim K opened up about her feeling toward motherhood and the love for her kids on her website. She gushed,
I have such unconditional love for my kids. No matter what, I will always love them and support them in anything they choose to do in life.
Kim K. You're acing motherhood. Get it.