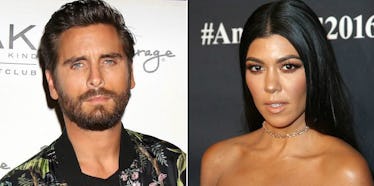 Kourtney Kardashian Reveals What It'd Take For Her To Get Back With Scott Disick
REX/ Shutterstock
Kourtney Kardashian and Scott Disick's relationship is a rocky one, to say the least.
It got especially rocky after Scott decided to ditch a Kardashian family vacay earlier this year to spend some time with a few models on the beaches of Miami.
That's not shady at all, right?
Despite being unfaithful in the past, it appears Scott has finally realized Kourtney is the "love of his life."
He claimed he'll "never be over her" on last night's episode of "Keeping Up With the Kardashians," but Kourtney definitely isn't making it easy for him to slide back into a relationship with her.
She's pretty salty -- and rightfully so.
In a clip from Sunday night's episode, Scott talks to Khloe about his feelings for her 37-year-old sister following a Mexico getaway they took with their kids.
During the show, he comments on their relationship, saying,
I will never be over her. She's the love of my life. I just hope that one day she understands that I would never want to be with anybody but her.
Aww, Scott! You finally made up your mind! How sweet.
Even though Scott finally admitted his everlasting love for the Kardashian sister, it looks like the tables have turned.
As the episode progresses, Kourtney admits there's one stipulation Scott must adhere to before she gets back together with him.
She said he needs to start being consistent.
While talking to Khloe -- who appears to be super excited for the couple to possibly get back together -- Kourtney stresses the fact that she isn't trying to work things out with Scott at the moment.
She says, "I've told him, I'm living my life and you're working on you. You've never been better, but you're so inconsistent. I need to see if you can be consistent."
Did you hear that, Scott? Kourtney needs consistence.
That means don't go chill with random models on the beaches of Miami, and actually spend time proving to Kourtney she's the "love of your life,"  OK?
OK.
Citations: Kourtney Kardashian Needs Scott Disick to Be ''Consistent'' Before Getting Back Together: ''We're Not Working on Things Right Now'' (E! Online)