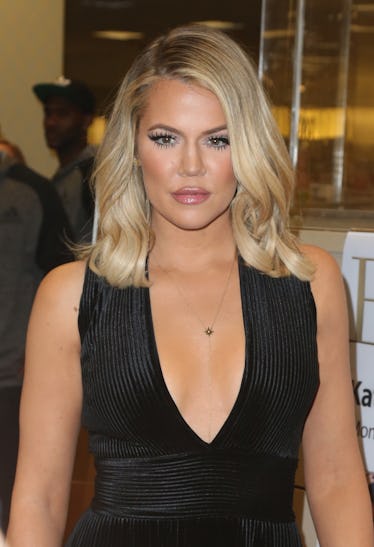 Khloé Kardashian Confirmed The Sex Of Her Baby & Her Family Is Shocked
Frederick M. Brown/Getty Images Entertainment/Getty Images
By now, you've heard the great news that Khloé Kardashian is FINALLY HAVING A BABY! After following the youngest Kardashian sister through years of maybe-she-will-maybe-she-won't drama, it's official. Like, official-official. Like, she said it on TV... so... yeah. The baby is coming. We finally know Khloé Kardashian is having a girl, if you can even deal with it! Holy cow is that going to be one cute baby.
Fans have been driving themselves wild sleuthing for details and specifics about KoKo's first pregnancy. Since she finally made her pregnancy announcement, Kardashian has been enjoying a joyful ride on the PR train. She's made appearances on shows like Jimmy Kimmel Live! and Ellen, and has slowly but surely been leaking out awesome baby details.
For example, we know she's planning to give birth in boyfriend Tristan Thompson's hometown of Cleveland. We also know she's open to having her family in the delivery room, but it will depend on who is annoying her the least at that moment. She's revealed everything from her cravings to her pregnancy workouts, and now we finally know the sex of her baby. Considering Kardashian is basically a professional interior decorator, we can only assume the baby is going to have one epic nursery.
On the season finale of Keeping Up With The Kardashians, KoKo made the epic announcement that her baby is a girl. Well, actually, it was Kylie Jenner who delivered the news. Here's how it went down: Kylie Jenner actually learned the sex of KoKo's baby from Khloé's doctor, and then called up her sister to tell her. When Kylie revealed Khloé is having a girl, her entire family thought she was kidding since Khloé was certain she was, in fact, having a boy. The star sounded pretty disappointed to learn the sex of her baby, but Kris Jenner helped get her excited about welcoming a daughter into the fam.
Kylie Jenner also sent Khloé a gorgeous "CONGRATULATIONS IT'S A..." cake. Isn't that so sweet?
For Kardashian, motherhood has been a long time coming. In her initial Instagram announcement, she wrote the touching message,
My greatest dream realized! We are having a baby! I had been waiting and wondering but God had a plan all along. He knew what He was doing. I simply had to trust in Him and be patient. I still at times can't believe that our love created life! Tristan, thank you for loving me the way that you do! Thank you for treating me like a Queen! Thank you for making me feel beautiful at all stages! Tristan, most of all, Thank you for making me a MOMMY!!! You have made this experience even more magical than I could have envisioned! I will never forget how wonderful you've been to me during this time! Thank you for making me so happy my love! Thank you to everyone for the love and positive vibes! I know we've been keeping this quiet but we wanted to enjoy this between our family and close friends as long as we could privately. To enjoy our first precious moments just us. Thank you all for understanding. I am so thankful, excited, nervous, eager, overjoyed and scared all in one! But it's the best bundle of feelings I've ever felt in my life!
According to Kardashian, this might be the first of many, many babies. In a previous episode of Keeping Up With The Kardashians, she said Thompson was up for a huge family. Kardashian revealed,
He wants to have like, five or six kids with me, and that's lovely. We could start at one and we could grow from there.
If anyone can handle a huge family, it's Khloé. She's already the middle child of six siblings and the world's best aunt to so many nieces and nephews.
To say this family likes to do things together is a major understatement. Kardashian's pregnancy ran in tandem with Kylie Jenner's first pregnancy until she gave birth in February. Plus, Kim and Kanye had their third child via surrogacy in January.
Congratulations, Khloé, Tristan, and your baby bundle of joy! We can't wait to meet you!
Check out the entire Gen Why series and other videos on Facebook and the Bustle app across Apple TV, Roku, and Amazon Fire TV.