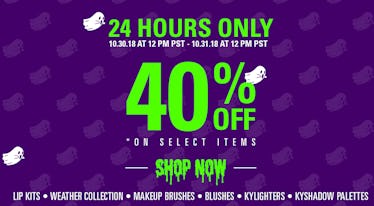 The Kylie Cosmetics Halloween Sale Means 40 Percent Off, So Stop Taking Costume Selfies & Go Shop
Kylie Cosmetics
Happy Halloween, and let's get shopping! Kylie Jenner is clearly a fan of the spookiest day of the year, as she not only blessed us with an incredible Halloween makeup collection, but now, she's also hitting us with a Kylie Cosmetics Halloween 2018 Sale. When it came time to choose between tricks or treats, Jenner decided to treat us in a big way, and I've never felt so grateful to a member of the Kardashian-Jenner clan. The sale features some of her best-selling products and most popular collections, and the only thing scary about it is how many items I'm about to buy.
Whether or not you choose to embrace her as a spooky queen, Jenner has really been giving Halloween her all this year. We're only half-way through Halloween day and she's already blessed us with not one, not two, but three costumes that are so good, they'd have me second-guessing my own costume choice, except I'm literally dressing up as Kylie, so it's all good.
Next, she posted her mother-daughter costume with Stormi — a nod to baby daddy Travis Scott's "Butterfly Effect," featuring matching pink wigs:
And finally, her official day-of Halloween costume pokes fun at haters who call her plastic and fake. She's Barbie, betch:
Three costumes and a huge sale? This girl loves Halloween! I love it, too, but I love makeup more, so let's get back to those sale deets. Jenner took to her Instagram to announce the 24-hour flash sale, which offers a major 40 percent off of select Kylie Cosmetics products.
The 24-hour sale ends on October 31 at exactly 12 p.m. PST:
Sometimes, sales on "select items only" are just a way for brands to get rid of excess stock on items that didn't sell. This is not one of those times, as some of the most popular products are available. The 40 percent off discount applies to Lip Kits, makeup brushes, blushes, Kylighters, Kyshadow palettes, and the Weather Collection, which was created in honor of baby Stormi.
I'm surprised (but def not upset) that Jenner would offer such a high discount on her signature Lip Kits, and I definitely plan to make the most of the money off. Since I normally opt for the more neutral shades, I'll pick up some riskier colors at almost half price, like the slate gray Shady Matte Lip Kit ($18, originally $29, kyliecosmetics.com).
It'll be hard for me to choose which palettes to pick up, since the brand has quite a few cute options in this sale, but I've been eyeing the Naughty Palette ($27, originally $44, kyliecosmetics.com) since last year, so I think it's time I finally take the plunge and buy it.
And finally, it really wouldn't be right to not pick up something from the Weather Collection, especially after seeing how cute Stormi looks for her first Halloween. I think my top choice would be the Highlighter Palette ($27, originally $44, kyliecosmetics.com), with its chic gray lightning bolt packaging and four shimmery shades of highlighter.
There's tons more available in the sale on the Kylie Cosmetics website, so I highly suggest you head over ASAP and start shopping before the sale winds down. The only thing sweeter than Halloween candy is discounted makeup, so shout out to Jenner for making this holiday the best it could possibly be!