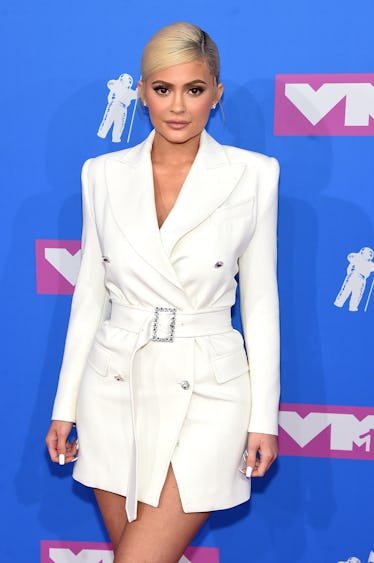 3 Kylie Jenner 2018 Costume Ideas To Wear With Your Kylie Lip Kit This Halloween
Jamie McCarthy/Getty Images Entertainment/Getty Images
Kylie Jenner has served up some seriously iconic looks all throughout 2018. And that makes her the perfect celebrity to emulate this Halloween. So, if you're on the hunt for a great Halloween costume, there's no doubt that Jenner's Instagram offers loads of inspiration. Speaking of Halloween, the cosmetics mogul is releasing a collection of Halloween makeup so you'll be all set for Oct. 31st! In any case, down below are three Kylie Jenner 2018 costume ideas that you can achieve quite easily without breaking the bank.
So, Jenner is known for the simplicity of her style. Not only does she wear pretty basic pieces that anyone can pull off, but she also makes sure to accentuate her figure. All this lets Jenner use her hair and makeup to really solidify her look (like with, say, a Kylie Lip Kit?).
Anyway, here are the three looks you can totally pull off this Halloween:
1. Casual Kylie in Athleisure
Jenner often dresses in pretty casual wear and you'll frequently see her in athleisure, which makes her look very free, fun, and ready for anything. You can actually find a near exact match for this outfit online. So, here's what you should get:
Bondoc Biker Short Set, $24.99, Fashion Nova
This biker short set from Fashion Nova is essentially the same as the one Jenner is wearing. So, this is the perfect set for your Halloween costume.
Tamara Hooded Bomber, $22.99, Fashion Nova
This hooded jacket will keep you warm and give you that signature Kylie Jenner look!
2. Jumpsuit Kylie
Jenner sported this jumpsuit back in May 2018 and it looked incredible. It's sleek, comfortable, and unique enough to be a great Kylie Jenner costume. Luckily for you, there's a jumpsuit that looks almost exactly like it available online. Here's where you can get it:
Lovin' You Tube Jumpsuit, $25.98, Fashion Nova
If I didn't know any better, I'd say this jumpsuit from Fashion Nova could very well be the exact one Jenner is wearing in her Instagram photo. If you've got a Jenner jumpsuit in mind for a Halloween costume, then this one here is the one for you!
3. Sweet & Comfy Kylie
Back in May 2018, Jenner posted the above photo of herself on Instagram and gave a shout out to Fashion Nova. Well, this very dress is still available from the online retailer, so now's your opportunity to sport this look for Halloween. Here's what it looks like:
Jacklyn Off Shoulder Mini Dress, $27.99, Fashion Nova
It's literally the perfect Kylie Jenner costume dress. It's light and fun and super versatile, so you can wear it even after Halloween.
Actually, you can rock all of these looks after Halloween, so they're all great buys!
No matter which Jenner option you choose for your Halloween costume this year, they're all bound to look great. And don't forget that you can totally top off your look with the new Kylie Cosmetics Halloween collection, which launches on Oct. 12. That's plenty of time to get it before the Halloween festivities begin. Trick or treat!