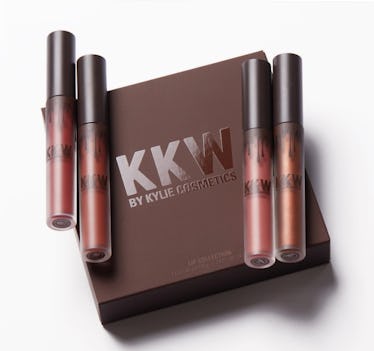 You Can Get Almost Half Off Lip Kits From Kylie Cosmetics This Black Friday
The Kardashian-Jenner family has never been one to do anything small. From bedazzled baby showers and birthdays to building mogul businesses — they're known for going big. Like, really big. Which is why the crazy Kylie Cosmetics' Black Friday 2018 sale deals, (which are almost too good to be true) shouldn't really come as a surprise. Prices have been seriously slashed on an array of cult-favorite products, meaning chances are some of them will probably sell out. So, get 'em while they're hot!
Apart from being a new mom, the youngest Jenner's cosmetics company went from but a fledgling startup to $900 million empire in three years. The skyrocket success is much due to one base product —the now iconic Kylie Lip Kit. A liquid lipstick and liner duo that totally changed the game for both Kylie and makeup lovers everywhere. When the product first launched, it was selling out at lightning speed — fans loved the full coverage it provided and colors it was offered in. From there, the company only continued to grow into the behemoth of a brand that it is today. With fans all over the world, you better shop Kylie Cosmetics' Black Friday sale before it sells out!
Whether you're in the market for some of that high-shine lipgloss that makes watching Keeping Up With the Kardashians an almost blinding experience, or if you're looking to try out one of Jenner's famed eyeshadow palettes, this sale has got you covered. On the Thanksgiving day Kylie Cosmetics Insta story, Stormi's mom shared with the world the deals to come. From 40 percent off selected Lip Kits to 30 percent off selected face products and palettes, this Black Friday sale will knock your tiny sunglasses off.
The sale starts Thanksgiving night at 6 p.m. PST (9 p.m. EST) and runs until Black Saturday (is that a thing?) to give you close to 48 hours to mull over the perfect shades and tones.
And while you're soaking up family time and filling your online shopping carts, be sure to scoop some of the much-awaited new Kylie and Kim collab. Also on Black Friday, the KKW x Kylie Cosmetics Round 2 will release, dropping new liquid lip shades like Soul Sister and Main Bae.
The kit is a warmer addition to the nude lipstick bundle the sisters dropped last spring. The KKW x Kylie Cosmetics Round 2 boasts deep reds and sultry metallics.
And of course, Thanksgiving means winter is around the corner, so be sure to peruse Kylie Cosmetics new winter-themed collection that dropped Nov 19. The set includes an eight-piece mini lip collection, four metallic lipsticks, an eyeshadow palette, a new Kissmas Lip Kit, three pressed face powders, a four-piece liquid lip set, and is cute as hell.
So fill up on food, wear your best athleisure, and hit the Kylie Cosmetics Black Friday sale before everyone else does. Because with these prices, the products are going to sell out in a flash.
Thanksgiving is a perfect time for self care and new makeup. And hey, after spending extended time in a room with your family, you've earned it.