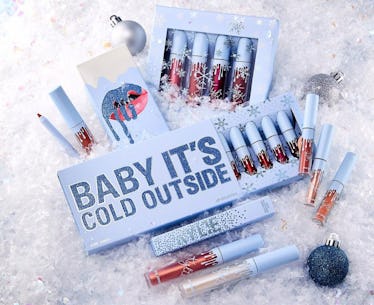 Kylie Cosmetics' New Holiday Collection Is So Cute, You'll Lose Your Chill
If you're one of the 119 million people that follow Kylie Jenner on Instagram then you're likely aware that the beauty mogul is releasing a cool (literally) new makeup collection just in time for the holidays. When does Kylie Cosmetics' holiday 2018 collection drop? Yesterday, Jenner revealed that it would be available to shop on Monday, November 19, which means you've got four days to decide which of the slew of new products you'll want to gift yourself. Featuring awesome new lipsticks, new palettes to die for, and a few face products to boot, the collection will definitely be topping everyone's wishlist.
Thanks to the all-knowing beauty Instagram account that is @trendmood1, you can check out swatches of most of the products and see how they actually look on skin. (There's nothing worse than buying a beauty product online only to discover it looks completely different when applied.) The account features swatches for both the new lip products and eye shadows, so they've got you fully covered.
Now, onto what exactly the collection includes!
The bulk of its lineup is, appropriately, lip products. The main attraction is an eight-piece collection of mini metallic, velvet, and matte liquid lippies called Baby It's Cold Outside. Each shade is brand new and boasts a names that references the season (Snowball and Under The Tree are examples), and the colors range from a deep burgundy red to a light metallic pink.
In addition, the collection includes four new metallic lipsticks, which twinkle brighter than the night sky and come in shades like Cold As Ice, a holographic lilac, and Brrr, a glittery brass.
And to round out the pout perfecting offerings, the collection also offers two brand new glitter glosses, one that's sheer and another that's bronze; a 4-piece liquid lip set, which includes two matte shades and two metallic shades; and a Kissmas Matte Lip Kit in a peachy nude. Basically, Kylie's got you covered for any event from now through New Year's Eve. Find some mistletoe stat!
Next up on the roster is a new 14-pan eyeshadow palette. Named Chill Baby, it includes both metallic and matte shades, which span from light pink to intense copper to cranberry to army green. If a full palette is too much, consider one of the collection's individual creme shadows, which come in shimmery pink, gold, and silver. They're the perfect trio of colors to create a fresh seasonal look that errs on the lighter side and channel a freshly fallen snow.
Last but most certainly not least, a three-pan face palette featuring a blush, highlighter, and perfecting powder rounds out the haul, along with two new Ultra Glow Loose Powder Highlighters. The first, Let it Glow, is a sparkly gold, while the second, Merry Bright, is a sparkly silver.
See what I meant when I said this collection was cool? It gets even better. Starting at 9 a.m. PST on November 19 Kylie Cosmetics is offering free worldwide shipping on all orders for the next 24 hours. So make your selects and get ready to channel your inner ice queen.