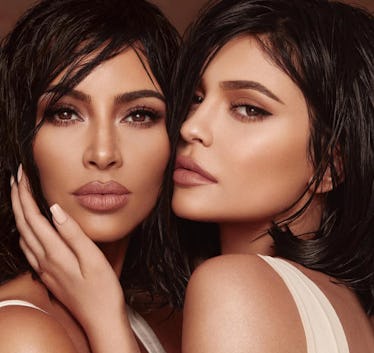 KKW & Kylie Collaborated On Another Collection & It's Dropping On Black Friday
Instagram is a hotbed when it comes to beauty news. It seems like every other day that a new collection is announced or product preview is given via the social media app. Yesterday, Kylie Jenner revealed that a KKW x Kylie Cosmetics 2 collection is on the horizon via a post on her Instagram page, so get excited because you know it's going to be good.
If you'll remember, Jenner and big sister Kim Kardashian first collaborated on a collection last year when they dropped a set of four shiny Créme Liquid Lipsticks in April. All four shades were peachy nudes and were named after one of their creators. There was Kim, a true peach; Kimmie, a more terra-cotta nude; Kimberly, a sandy nude; and Kiki, a rose-tinted nude. "It wouldn't be a Kim collab without four nudes," Jenner had joked on Snapchat. The colors were clearly a hit— within an hour of being made available on kyliecosmetics.com, the entire stock of them had sold out, which is not that unusual for an exciting KKW Beauty or Kylie Cosmetics drop. Both brands are known to regularly have new stock wiped out in a matter of hours, proving just how gigantic their influence is.
Taking the freakout that the first KKW x Kylie Cosmetics collaboration caused into account, it's easy to understand why a certain Instagram post Jenner uploaded in July gained major buzz among fans. It was a behind-the-scenes photo that had been taken of her and Kardashian on set of the shoot for their first collaboration and was captioned, "throwback ✨ who wants KKW X KYLIE round 2?"
Since then, fans have naturally been eagerly awaiting an official announcement about a second KKW x Kylie collection and yesterday, they go it. In another post on Instagram, Jenner uploaded a photo of her and Kardashain with the caption, "KKW X KYLIE part 2... coming #BlackFriday to KylieCosmetics.com 🖤." Both are wearing what appears to be a subtly metallic nude lip color, which I can't help but to assume will be in the upcoming collaboration.
That's the thing, no other details have been announced about the collection aside from its drop date, like what it might feature or whether or not it will be available to shop at a discounted price given its release date. In true Kardashian and Jenner form, the sisters have built up major hype around the release, which will likely also sell out in a matter of minutes rather than hours. If you want to get it on it, you'll need to act fast.
The collaboration announcement comes on the heels of news of upcoming individual KKW Beauty and Kylie Cosmetics releases. Kardashian will be releasing a kit called the Glam Bible, which will include a six-pan shadow, mascara, false lashes, blush, a highlighter, two lipsticks, a lipgloss, a lip liner, and eyeliner. Together, everything will cost $150.
Kylie Cosmetics, on the other hand, will be dropping an entire winter-themed collection. This one will include an eight-piece mini lip collection, four metallic lipsticks, an eyeshadow palette, a new Kissmas Lip Kit, three pressed face powders, and a four-piece liquid lip set.
And there you have it, this is why both sisters are referred to as beauty moguls.