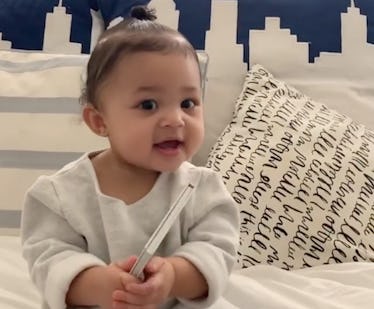 This Video Of Stormi Saying "Dada" While Trying To Say Kylie Cosmetics Is Too Adorable
Kylie Jenner on Instagram
Stormi Webster is an excellent baby. The little 9-month-old cutie is starting to learn how to talk, so while she's in this learning phase, Mama Kylie is trying to teach her some important buzzwords. And the video of Stormi saying "Dada" while Kylie Jenner is trying to get her to say Kylie Cosmetics is a classic.
"Trying to teach her some new words," Jenner said in the post's caption. In the adorable video, you see little Stormi holding a Kylie Cosmetics eyeshadow palette and babbling like babies do. Jenner slowly says "Kylie Cosmetics," trying to get her daughter to try and say the makeup brand's name. Stormi tried her hardest, but decided to just stick to a word she already knows well: Dada.
"Dada?!" Jenner responded. Stormi laughed at her, then the video ended. Guess we know who Stormi's favorite parent is!
Jenner treated her followers to a bunch of Stormi pictures on Nov. 18. First, she posted a series of photos of Stormi and Dada (Travis Scott) seemingly backstage at Scott's first music festival. "Only the people around you really know how hard you work," Jenner said in the post. "I love to watch you make all your dreams come true. your first festival. we're so proud of you. we love you."
In another photo she posted of her and Stormi, Jenner said, "Ugh i love you so much. a living breathing piece of my heart."
The video of Stormi giving up on saying "Kylie Cosmetics" and saying "Dada" instead is hella cute.
Also cute: The pictures Jenner posted of Stormi and Travis Scott, and Stormi and herself.
Fans usually get Stormi updates from Kylie Jenner, but Travis Scott recently sat down for his first interview with Ellen DeGeneres and gushed about his and Jenner's daughter.
"She's so animated," Scott told Degeneres. "She's just running around the house right now on this new walker, and she's turning into a full-blown runner."
Scott also confirmed that Kris Jenner helped deliver Stormi, just like she also did for True when Khloé Kardashian was in labor.
"That is a fact, yeah," Scott said about Kris Jenner. "She held it down because it was so scary. She walked me through the whole process." Apparently, Scott had no idea what a placenta was until he saw Kylie deliver one. "There's this thing called the placenta, that I've just been hearing about? Oh my god. So, I was fearful of all that," he said. "I cut the umbilical cord," he added, "but, yeah, [Kris] held it down. Mama KJ, she's the best."
He continued,
Going into it, I was nervous and scared, because we're both young. But, you know, when you first hold a baby in your arms, it's uncontrollable. I never thought I could just love something so hard, ya know? It's crazy.
Kylie knows!
Travis Scott, Kylie Jenner, and Stormi Webster are currently all touring together for Scott's ASTROWORLD tour. Here's hoping we get to see some cute new videos of Stormi on tour!