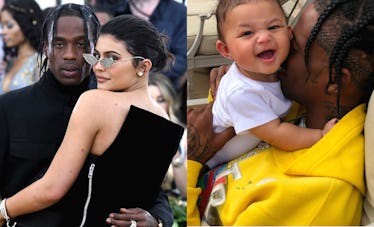 This One Thing About Watching Kylie Jenner Give Birth To Stormi Scared Travis Scott
Noam Galai/Getty Images/Travis Scott on Instagram
Travis Scott apparently didn't know what a placenta was until Kylie Jenner gave birth to Stormi Webster. That's just one of the many things viewers will learn about Travis Scott during his interview with Ellen DeGeneres! In the interview airing on Monday, Nov. 12, the rapper told DeGeneres all about his time in the delivery room when his daughter was born, and Travis Scott's reaction to watching Kylie Jenner give birth to Stormi is hilarious, and also deeply concerning, but mostly hilarious.
Scott's appearance on The Ellen DeGeneres Show marks his first interview on the talk show. He has appeared previously on the TV staple, but only to perform, so this was his first time actually sitting down on the Ellen couches and chatting with DeGeneres. Before they got down to business, DeGeneres poked fun at Scott for requesting an assortment of alcohol be available in his dressing room instead of just drinking the usual water the show offers.
On the table between Scott and DeGeneres was some Don Julio tequila, Moet champagne, Hennessy, and Ciroc. He revealed to DeGeneres that he always keeps Ciroc around because he once had a nightmare that P. Diddy would randomly show up to wherever he was at any given time and be offended that his Ciroc brand wasn't there. You know, realistic.
Then they got to talking about Kylie Jenner and Stormi Webster. A picture of Scott and Stormi was projected onto the screen behind the two, and Scott gave the photo a loving look before saying, "I had to leave her to come up here, and it was just so hard." He revealed that her personality is really animated and she's starting to figure out how to walk. "She's so animated. She's just running around the house right now on this new walker," he said, "and she's turning into a full-blown runner."
DeGeneres then asked Scott if what Kris Jenner said on Keeping Up With The Kardashians was true, in that she helped deliver Stormi. DeGeneres referred to Jenner as Scott's mother-in-law when she asked this, though... which only adds to my growing conspiracy theory that Kylie Jenner and Travis Scott secretly got married!!
"That is a fact, yeah," Scott said when asked if Kris Jenner helped deliver Stormi. He revealed that "Mama KJ" helped guide him through the whole delivery because he was so freaked out the whole time. "She held it down because it was so scary," Scott said. "She walked me through the whole process."
Then he revealed that Kylie delivering the placenta after delivering Stormi was what freaked him out the most. "There's this thing called the placenta, that I've just been hearing about? Oh my god. So, I was fearful of all that," he said. Um, first of all, how the hell did Travis Scott not know what a placenta was?! That is truly mind-blowing that he only learned what it was when Jenner was in the middle of childbirth. But if, by chance, you're in the same boat as Scott, the placenta is an organ that develops in your uterus during pregnancy that provides oxygen and nutrients to the baby and removes waste products from the baby's blood. So if you didn't know, now you know.
Luckily, Scott had Kris Jenner — who we can safely call a baby expert, having six children and nine grandchildren of her own — to tell him all about it while Kylie was just a little busy. "I cut the umbilical cord," he added, "But, yeah, [Kris] held it down. Mama KJ, she's the best."
Scott also revealed that he and Kylie being so young and having a baby together did frighten him a bit.
"Going into it, I was nervous and scared, because we're both young," he said, "But, you know, when you first hold a baby in your arms, it's uncontrollable. I never thought I could just love something so hard, ya know? It's crazy." What's also crazy is him not knowing what a placenta was until he literally saw one for the first time.