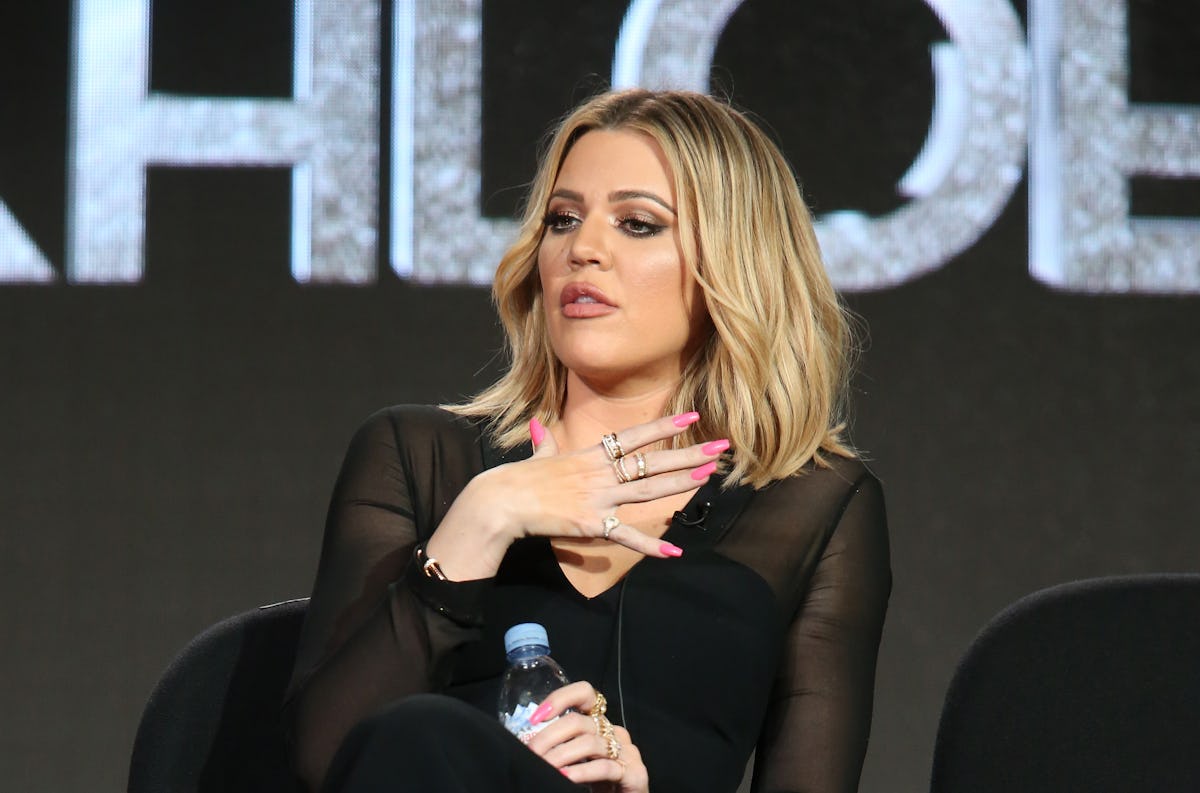 Is Khloé Kardashian's Instagram Best 9 A Clue About The Pregnancy Rumors?
Frederick M. Brown/Getty Images Entertainment/Getty Images
It's that special time of year, you guys. It's time for Instagram's "best nine." Around this time, apps like Facebook, Instagram, and... I can't think of another example, but I know many exist... go back through all of our social media engagements and provide us with a summary of our year. For some, it's a time to reflect on their best moments of the last 365 days. For others, it's a way to gauge what kind of content resonates best with their audience. A tiny detail about Khloé Kardashian's best nine photos on Instagram may reveal that for her, it's all about her nieces and nephews, or should I say... BABIES?
UPDATE: On Dec. 20, Khloé Kardashian confirmed that she is expecting a baby with Tristan Thompson in an Instagram post.
EARLIER: LET ME EXPLAIN. Here's what's up: Khloé Kardashian is reportedly pregnant with boyfriend Tristan Thompson's baby, and it's a big freaking deal. Like, huge. It's literally all we can talk about.
Fans have been scouring the reality TV star's Instagram account in hopes of catching a glimpse of a baby bump or some sort of baby detail, and her best nine collage might be it. Out of the nine images, four of them are pics of her nieces and nephews, and four others are of her and Tristan. (The last one is a hot pic of Khloé in a mini dress at her big sister Kim's baby shower, but it's fine. Everyone gets one selfie.)
Here's what I'm getting at: KoKo loves children and she LOVES her boyfriend, Tristan. Basically, her best nine collage is a pseudo crystal ball showing us her future. KEEP UP WITH ME, PEOPLE.
If we're reading things correctly, her future will consist of babies, babies, and more babies. (Or at least one for now.) Take a look at some of the pictures that made the cut:
One thing we can all agree on is that the collage certainly exemplifies the things that are most important to Kardashian.
Family and love have always been two huge themes in the middle sister's life, and we've watched for years as she has doubled down on loyalty toward her siblings, parents, and romantic partners.
More than anything, fans are so happy to see she's found some sort of peace with Thompson. In an episode of Keeping Up With The Kardashians, Khloé admitted,
He wants to have, like, five or six kids with me, and that's lovely. We could start at one and then grow from there. But now, knowing I'm not on birth control, it's really scary. It's like a really big step.
And like her best nine photos show, she's a super awesome aunt. She once agreed,
I'm a really fun aunt, so I hope I'm going to be a fun mom! I like to have fun and be silly and not take myself too seriously with the kids, so I hope that will translate when I actually have my own.
I mean, obviously.
If all goes the way we think it's going to go, she'll become a mom and an aunt to a new niece or nephew all at the same time!
Little sis Kylie is also reportedly pregnant with boyfriend Travis Scott's baby, and according to People magazine, she and Khloé are due around the same time. A source claimed, "Getting pregnant at the same time was totally unplanned but they are really happy about it."
Sounds like a party to us.
Now, we're all waiting to see if Khloé throws herself a baby shower like Kim. Apparently, even Kylie reportedly had a secret celebration for herself.
Whatever 2018 brings you, Khloé, we are freaking pumped for it. Fingers crossed for nine pictures of a gorgeous baby next year!
Check out the entire Gen Why series and other videos on Facebook and the Bustle app across Apple TV, Roku, and Amazon Fire TV.