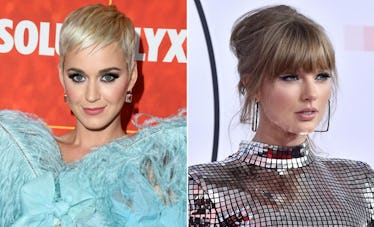 Katy Perry's Reaction To Taylor Swift Getting Political On Instagram Might Surprise You
Jon Kopaloff/Getty Images; Frazer Harrison/Getty Images
If there was any last doubt in your mind that Katy Perry and Taylor Swift have buried the hatchet after their now-iconic feud, let Katy Perry's reaction to Taylor Swift's political Instagrams be the final indicator that these two pop stars are totally over the drama these days.
But first, an abridged history: Katy Perry and Taylor Swift famously feuded for at least three years starting back in 2014. It all started with Swift's 2014 interview with Rolling Stone, in which she called out a singer for supposedly doing something "so horrible" to her: trying to steal her backup dancers.
"She basically tried to sabotage an entire arena tour," Swift told Rolling Stone. "She tried to hire a bunch of people out from under me. And I'm surprisingly non-confrontational — you would not believe how much I hate conflict. So now I have to avoid her. It's awkward, and I don't like it."
Swift never mentioned Perry by name, bit Swifties and Katy-Cats weren't born yesterday. They deduced pretty quickly who Swift was talking about. They only became more convinced Swift was calling out Perry when Perry herself seemingly reacted to the Rolling Stone interview with her now-infamous tweet that said, "Watch out for the Regina George in sheep's clothing..."
Things only got worse when Swift dropped "Bad Blood," a song fans quickly decided was a shot at Perry, especially since Swift told GQ that the song wasn't about heartbreak, but "the loss of friendship."
Perry seemingly confirmed that she was the target of all of Swift's ~shade~ in an interview on James Corden's Carpool Karaoke, explaining her side of the story which was, in short, that a few of her close dancer friends asked if it was cool if they joined Swift's tour. She was basically like, "That's cool, just make sure you can get out of your contract if you want to go on tour with me in a year," which they apparently did (one of those dancers seems to have been Lockhart Brownlie, who shared in an interview with the Examiner that he left Swift's Red tour to join Perry's Prismatic tour). Swift was not cool with that, according to Perry.
Perry seemingly took her musical shot back at Swift with her 2017 track, "Swish, Swish," in which she sings, "A tiger / Don't lose no sleep / Don't need opinions / From a shellfish or a sheep." See what she did there? She's the tiger (à la, her hit song "Roar") and Swift is the Regina George in sheep's clothing? Get it? Get it? OK, moving on.
Anyway, fast forward to today. Both Perry and Swift had some pretty challenging times in 2016 and 2017 for reasons that have absolutely nothing to do with each other.
Swift had somewhat of a fall from grace in the public eye after Kim Kardashian put her on blast on Snapchat for supposedly lying about approving Kanye West's "Famous" lyrics about her. But Swift maintains she didn't approve Kanye's reference to her as "that b*tch," for the record. Here's her now-deleted statement on the matter:
As for Perry, she experienced "situational depression" as a result of her Witness album not being quite as successful as her previous ones in the public eye.
And it seems, through it all, these two powerful women realized it was time to think about what was really important and bury the hatchet. Perry sent Swift a literal olive branch in May 2018, which Swift shared on her Instagram Story in what seemed like the first sign that they were calling a truce.
And now Perry is giving credit where credit is due.
When Taylor Swift posted on Instagram encouraging her followers to get out and vote in the midterm elections and endorsing Democrats in the state of Tennessee, Perry was one of the first celebs to give her post a like. And now, she opened up about why in an interview with Variety on the amfAR Gala Los Angeles red carpet on Oct. 19.
"She's setting a great example," Perry told the publication simply.
And that's truly enough said.
Whether Swift and Perry are besties or just two people that are so over the drama, I'm just glad that these two pop sensations are finally on the same page about something — and that's that everyone needs to get out there and vote!