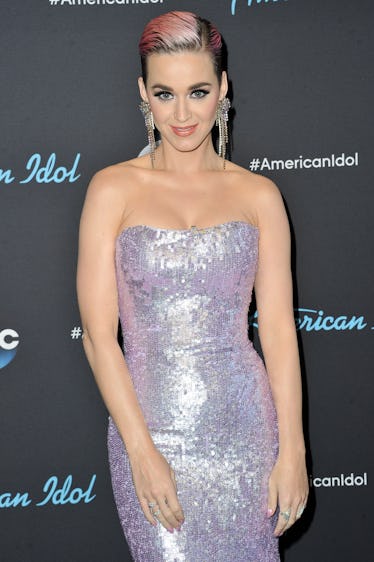 Katy Perry Opened Up About Dealing With Situational Depression & Her Message Is So Powerful
Allen Berezovsky/Getty Images Entertainment/Getty Images
I think it's pretty amazing when celebrities use their star power to bring attention to an important subject. Serena Williams just did it when she opened up about experiencing postpartum depression. Chrissy Teigen opened up about her experience with IVF. And now we have Katy Perry's quotes about dealing with situational depression.
The "Firework" singer covers the August issue of Vogue Australia, and for the accompanying story inside, she detailed how she was affected by the not-so-great reviews she received after releasing her album Witness in 2017.
"I have had bouts of situational depression and my heart was broken last year because, unknowingly, I put so much validity in the reaction of the public, and the public didn't react in the way I had expected to … which broke my heart," she explained. "Music is my first love and I think it was the universe saying: 'Okay, you speak all of this language about self-love and authenticity, but we are going to put you through another test and take away any kind of validating blankie. Then we'll see how much you do truly love yourself.' That brokenness gave me a wholeness I never had. It gave me a new foundation. It's not just a material foundation: it's a soul foundation."
Pretty amazing. In fact, Perry made so much progress dealing with her mental health over the last six months, that on June 6, she posted a tribute to the one-year anniversary of Witness — the era that caused her so much pain — on her Instagram feed.
"Witness is 1," she wrote. "This has been an eye-opening year. Thank you for witnessing me. I hope I've helped you feel safe, seen, and celebrated while on tour. I see you and I love you."
Of course, getting to the place where she could celebrate Witness didn't come easy. Perry told Vogue she attended a week-long personal growth retreat program at the Hoffman Institute in California, where "participants learn how to transform counterproductive beliefs, perceptions, and emotional patterns that are limiting their lives," according to the company's website.
"I believe that, essentially and metaphorically, we are all computers, and sometimes we adopt these viruses via our parents or via the nurture that we are given or not given growing up," she explained. "They start to play out in our behavior, in our adult patterns, in our relationships. There are a lot of people who are self-medicating through validation in audiences, through substances, through continually running away from their realities – denial, withdrawal. I did that for a long, long time too."
I love Perry for being so candid about her journey, and for taking some of the shame away from getting help when you need it. She's even given out Hoffman gift certificates to friends who she's seen struggling. "I recommend it to everyone, my good friends and other artists who are looking for a breakthrough," she said. "The biggest lie that we've ever been sold is that we as artists have to stay in pain to create."
Amen, sis!