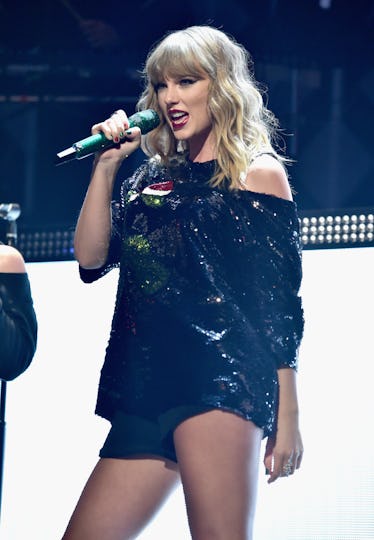 Taylor Swift Just Posted A Letter Katy Perry Sent Her & I'm Shook
Theo Wargo/Getty Images Entertainment/Getty Images
Well well well — it looks like Katy Perry has sent her longtime arch nemesis Taylor Swift an apology of sorts. For close to four years now the pop stars have shaded each other consistently through their interviews, song lyrics, music videos, and social media. But now it seems that this feud will finally be coming to an end, because Taylor Swift's Instagram about Katy Perry's olive branch has me hopeful that these two divas will be able to work out their differences. And I am shook that this is all actually happening.
T.Swift fans everywhere were shocked when they clicked on her Insta story on May 8 — because the last thing I think any of us expected was to see a cute apology package sent from one of her most buzzed-about enemies: fellow singer Katy Perry. The peace offering consisted of a literal olive branch — traditionally a symbol for peace — along with a note from Perry. Added bonus: the sticker that Perry used to seal the note with is apparently picture of her dog, Nugget. Now that is just too cute for words.
In the video you can hear Swift gushing over the package. She says, "So I just got to my dressing room and found this actual olive branch, this means so much to me." And she captioned the photo with "Thank you Katy" and a couple of heart emojis — indicating that the feud might be officially over, people! Can you believe it? Because I can't.
After some expert zooming in and deciphering of the Insta story screenshots, I can say with almost 100% confidence that the note from Perry reads in part,
Hey Old Friend, I've been doing some reflecting on past miscommunications and other feelings between us. I really want to clear the air… deeply sorry for...
Wow. Talk about a complete 180 degree turnaround from Perry. And clearly, Swift feels the same way.
If you need a bit of a refresher course on the origins of this conflict between the two, here's a quick overview. Swift revealed in a Sept. 8, 2014 profile with Rolling Stone that she questioned her friendship with one singer in particular. Swift claimed that this singer hired a bunch of dancers out from under her in under to sabotage her own tour, and it's been long speculated that the alleged culprit is Perry.
A day after the publication of that interview, Perry posted a suspicious tweet which said, "Watch out for the Regina George in sheep's clothing..." She then commented on the backstory behind the tweet during an interview with Billboard in January 2015 where she said, "​​If somebody is trying to defame my character, you're going to hear about it."
From there came Swift's music video for her single "Bad Blood," which pretty much everyone believes is specifically about her feud with Perry, Perry's "Swish Swish" video which everyone also believes is about the same thing, and lots more subtle (and not-so-subtle) shade throwing left and right. At one point Perry went on the record saying that she doesn't exactly think the feud will ever end during an interview in August 2017. Perry told SiriusXM's "The Morning Mash Up" that she'd "love for the beef to end," but "haven't heard anything of it" at that point in time.
Which is why it came as a shock to the world to see this latest Insta story from Swift, who after all these years seems to have officially accepted Perry's apology (and olive branch). In the long string of "beefs" that Swift has with numerous celebs, I'm considering this one squashed.