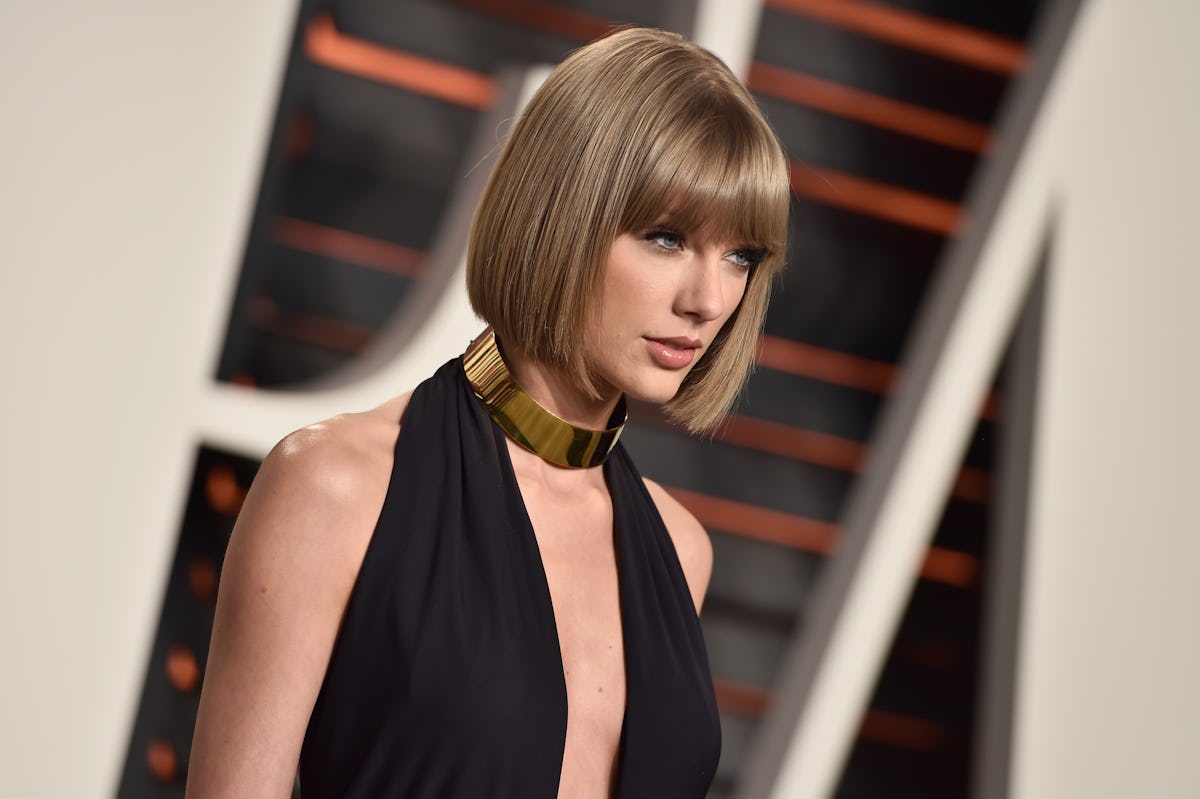 Taylor Swift Broke Her Silence On Politics In A Major Way With This Instagram
Pascal Le Segretain/Getty Images Entertainment/Getty Images
The past few months has certainly inspired people to stand up and speak out about their political beliefs, no matter how controversial. Of course it's not uncommon to see a high profile celebrity taking to social media to express their thoughts on today's political climate, but there's one certain pop princess that's famously kept herself quiet on these issues. Well, lo and behold everyone, because Taylor Swift's Instagram endorsing Democrats in the 2018 midterms might mark a new shift in the singer's activist side.
Late on Sunday, Oct. 7, Taylor Swift took to Instagram to share with fans who she plans to vote for in the upcoming midterm elections, which take place Tuesday, Nov. 6. In the lengthy post, Swift addresses her past reluctance to speak out publicly on political matters, but acknowledges that the past two years have made her feel "differently." Swift is voting in her home state of Tennessee, and openly declared that she plans to vote for Democrats Phil Bredesen for Senate and Jim Cooper for House of Representatives. In addition to supporting Bredesen and Cooper, Swift also spoke out against Republican Senate candidate Marsha Blackburn, whose voting record and stances on social issues do not reflect Swift's own "Tennessee values," per her post. Swift specifically cited Blackburn's record on equal pay, LGBTQ+ rights, and reauthorizing the Violence Against Women Act (VAWA). Elite Daily reached out to both Swift and Blackburn's teams for comment about Swift's Instagram post, but did not hear back by the time of publication.
Given that she's someone who's never been keen on publicly addressing politics before, I have to say that Swift just dove right in. "In the past I've been reluctant to publicly voice my political opinions, but due to several events in my life and in the world in the past two years, I feel very differently about that now," she wrote in part. "I cannot vote for someone who will not be willing to fight for dignity for ALL Americans, no matter their skin color, gender or who they love."
Near the end of the post, Swift decided to focus less on her newly public political beliefs and turn the attention to urging young adults and recently turned 18-year-olds to make their voice heard by voting. She pointed out that, Tuesday, Oct. 9 is the last day to register to vote in Tennessee. So, for all of you unregistered young Tennesseans out there, that's some valuable information (and you can register here). She wrote,
Please, please educate yourself on the candidates running in your state and vote based on who most closely represents your values. For a lot of us, we may never find a candidate or party with whom we agree 100% on every issue, but we have to vote anyway. So many intelligent, thoughtful, self-possessed people have turned 18 in the past two years and now have the right and privilege to make their vote count. But first you need to register, which is quick and easy to do. October 9th is the LAST DAY to register to vote in the state of TN. Go to vote.org and you can find all the info. Happy Voting!
Following Swift's Instagram post, Phil Bredesen himself took to Twitter to thank Swift for endorsing him in the upcoming November midterms, and also urged people to register to vote.
Taylor Swift's post encouraging young people to get registered to vote might be the push many people might need to go out and make some waves. Blackburn, Cooper, and Bredesen are the perfect example of how different candidates' stances can be, and why it's important to do your research.
For example, Blackburn has openly spoken against same-sex marriage throughout her career and applauded Donald Trump's transgender military ban back in July 2017. She also voted against the reauthorization of VAWA, which assists victims of domestic violence, in 2013 because it protected what she called "different groups," saying in an interview at the time that it should have focused more narrowly on women. The final version included protections for LGBTQ+, Native American, and undocumented victims of domestic violence. Elite Daily reached out to Blackburn's Senate campaign for comment on her vote at the time, but did not immediately hear back.
As opposed to Blackburn, Senate candidate Bredesen's political beliefs are less conservative, and he supports the renewal of the Obama-era Deferred Action for Childhood Arrivals (DACA) program and has criticized Trump's Mexico border wall. Meanwhile Cooper, who is running for re-election to the House, has also spoken out about the future of civil rights in the United States by supporting the Equality Act, which would amend civil rights law to ensure every individual be protected under the law regardless of race, sexual orientation, gender, etc. In addition, Cooper voted for the DREAM Act in 2010, which would give young undocumented individuals legal status while pursuing an American education or serving in the military.
Swift's recent Instagram may be explicit, but the singer-songwriter hasn't always been so quick to let her political opinions be known to the public. In fact, the performer's silence on a number of political issues, such as Donald Trump's presidency, and her refusal to take part in the 2017 Women's Marches, has led to quite a bit of criticism from the public. Swift is arguably one of the most influential and iconic performers to exist in the 21st century, and many people believe that she should be using her platform to speak out on social and political issues impacting this country.
It truly is impossible to ignore Swift's public influence. No matter what political party Swift's fans decide to lean towards, at least Swift has encouraged young people to register.
You heard the pop princess, people. Get out there and make sure you register to vote for the November midterm elections. It seriously takes no time at all.