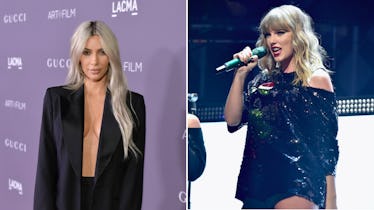 Here's The Ultimate Timeline Of Kim Kardashian & Taylor Swift's Mega Feud
Neilson Barnard/Getty Images Entertainment/Getty Images, Theo Wargo/Getty Images Entertainment/Getty Images
Celebrity relationships and friendships are a rare breed. These famous faces have their lives played out in front of the masses, whether it's the good, the bad, or the straight-up shady. In Elite Daily's new series, It's Complicated, we're highlighting the biggest celebrity "feuds" that took over Hollywood and dominated our Sunday brunches for weeks on end. We'll take a deep dive into the lives and social media feeds of our favorite stars and dissect what happened in front of the camera, what went down behind the scenes, and everything you might have missed in between.
When Kim Kardashian sent "valentines" to her haters in early February 2018, I wasn't surprised to find out Taylor Swift made the cut. After all, the pair have been feuding for what seems like forever. The drama started almost a decade ago at the 2009 MTV VMAs, with West's whole "I'mma let you finish" thing. And now many of the hits off Swift's latest album, Reputation, have added to the bad blood (sorry), thanks to lyrics that throw major shade Kimye's way. Need a refresher? Lemme break it down for you with a timeline of Kim Kardashian and Taylor Swift's feud. Warning: It's kind of complicated. And it all starts, of course, with Kanye West.
2009 VMAs
It's 2009. Kristen Bell and Dax Shepard are newlyweds. Jennifer Aniston is dating John Mayer. And a visibly shocked Swift beats out Beyoncé's "Single Ladies" to win Best Female Video for "You Belong With Me" at the MTV VMAs. But when the then 19-year-old singer stepped up to accept her award, West rushed the stage mid-speech and grabbed the mic.
"Yo, Taylor, I'm really happy for you and I'mma let you finish, but Beyoncé had one of the best videos of all time," he said. "One of the best videos of all time!"
Watch:
So awkward! Swift looks like a poor, lost puppy about to burst into tears, and not surprisingly, the audience gave her a standing ovation later in the night.
West wrote an apology on his website shortly after the VMAs, then took it down and replaced it with a second apology, according to MTV.
"I feel like Ben Stiller in Meet the Parents when he messed up everything and Robert De Niro asked him to leave," he wrote. "That was Taylor's moment and I had no right in any way to take it from her. I am truly sorry."
If only that was the end of it, right? But as we all know only too well, Band-Aids don't fix bullet holes.
2015 Grammys
Swift and West reunited at the 2015 Grammys and it felt so good! There were no signs of any drama — the pair even showed off some secret handshake thing and posed for pics!
And, oh look — Kim Kardashian was there, too:
Shortly after, rumors of a potential collab began to fly. "Yeah, she wants to get in the studio and we're definitely going to go in," West reportedly dished during On Air With Ryan Seacrest. "Any artist with an amazing point of view, perspective, fan base, I'm down to get in the studio and work." Sadly, it never happened.
2015 VMAs
Fast forward six years after West first dissed Swift, and the latter was tapped to present the former with the Michael Jackson Video Vanguard Award.
You followed that, right?
"I have been a fan of his since I can remember because Kanye defines what it is to be a creative force in music, fashion and, well, life," Swift said in her introduction. "I'm really happy for you, and I'mma let you finish, but Kanye has had one of the greatest careers of all time!"
Epic.
2016 Yeezy Season 3 Fashion Show
Things start getting messy for T. Swizzle at West's Yeezy Season 3 fashion show.
See, the show actually doubled as a listening party for West's new album, The Life of Pablo, and fans got to hear the lyrics to the song "Famous" for the very first time. Yes, those lyrics. Brace yourselves, dolls:
For all my Southside n***** that know me best / I feel like me and Taylor might still have sex / Why, I made that b*tch famous / Goddamn / I made that b*tch famous.
According to West, Swift gave the song's lyrics her blessing prior to its big debut. But a spokesperson for Swift told People, "Kanye did not call for approval, but to ask Taylor to release his single on her Twitter account. She declined and cautioned him about releasing a song with such a strong misogynistic message. Taylor was never made aware of the actual lyric, 'I made that b*tch famous.'"
2016 Grammys
The 2016 Grammys arrived just a few weeks later, and while accepting the award for Album of the Year, Swift took a minute to address the whole debacle without actually addressing the whole debacle.
"[A]s the first woman to win Album Of The Year at the Grammys twice, I want to say to all the young women out there, there are going to be people along the way who will try to undercut your success or take credit for your accomplishments or your fame," she said. "If you just focus on the work, and you don't let those people sidetrack you, someday when you get where you're going, you'll look around and you will know that it was you and the people who love you who put you there, and that will be the greatest feeling in the world. Thank you for this moment."
Point, Swift.
June 2016
But in June 2016 in a cover interview with GQ, Kim Kardashian couldn't help but give us all her two cents regarding West's "Famous" lyrics. "She totally approved that," Kardashian said. "She totally knew that that was coming out. She wanted to all of a sudden act like she didn't. I swear, my husband gets so much sh*t for things [when] he really was doing proper protocol and even called to get it approved. I don't know why she just, you know, flipped all of a sudden.… It was funny because [on the call with Kanye, Taylor] said, 'When I get on the Grammy red carpet, all the media is going to think that I'm so against this, and I'll just laugh and say, 'The joke's on you, guys. I was in on it the whole time.' And I'm like, wait, but [in] your Grammy speech, you completely dissed my husband just to play the victim again."
When GQ reached out for comment from Swift, a spokesperson provided the following statement:
Taylor does not hold anything against Kim Kardashian, as she recognizes the pressure Kim must be under and that she is only repeating what she has been told by Kanye West. However, that does not change the fact that much of what Kim is saying is incorrect. Kanye West and Taylor only spoke once on the phone while she was on vacation with her family in January of 2016, and they have never spoken since. Taylor has never denied that conversation took place. It was on that phone call that Kanye West also asked her to release the song on her Twitter account, which she declined to do.
Not sure who to believe here? Yeah, me neither.
July 2016
And that's probably why, a month later, Kardashian decided to take matters into her own hands and expose Swift by posting a series of videos of the phone call between her and West on Snapchat.
"It's like a compliment," Swift is heard saying in the video after West reads his lyrics to her.
"I really appreciate you telling me about it," Swift says. "That's really nice. I never would've expected you to like tell me about a line in your song."
Point, Kardashian.
July 2016
Swift, of course, shot back real quick with a post on Instagram captioned "That moment when Kanye West secretly records your phone call, then Kim posts it on the internet." It has since been deleted.
"Where is the video of Kanye telling me he was going to call me 'that b*tch' in his song?" she reportedly wrote. "It doesn't exist because it never happened. You don't get to control someone's emotional response to being called 'that b*tch' in front of the entire world. Of course I wanted to like the song. I wanted to believe Kanye when he told me that I would love the song. I wanted us to have a friendly relationship. He promised to play the song for me, but he never did. While I wanted to be supportive of Kanye on the phone call, you cannot 'approve' a song you haven't heard. Being falsely painted as a liar when I was never given the full story or played any part of the song is character assassination."
Annnnd we're back to an even score.
August 2017
Swift laid low for awhile, then made her big return with her new album, Reputation. Her fans were quick to surmise that the song "Look What You Made Me Do" — with lyrics like "I don't like your little games / I don't like your tilted stage" — is about Kanye and Kim. Though the singer, herself, has never confirmed this.
Swift never uses Kanye's name in the song because, duh, but the rapper did use a tilted stage on his Saint Pablo tour, so draw your own conclusions. Elite Daily reached out to Swift's team for comment on the song lyrics, but did not hear back by the time of publication.
December 2017
And of course, because Kardashian always has to have the last word, the social media queen took to Instagram just a month before welcoming little Chicago West to the fam to share a throwback of herself at West's "Famous" exhibit — you know, the one that features a naked wax lookalike of Swift in bed with Kardashian and West? She succinctly captioned the pic: "Famous," and Swift's fans responded by flooding the post's comment section with rat emojis.
Swift may or may not have clapped back a day later, when she posted an outtake from her British Vogue shoot and highlighted a pointed lyric from her song "I Did Something Bad" to use as the caption: "I never trust a narcissist. But they love me..."
February 2017
Which brings us to the valentine.
So shady, but TBH, I actually kind of dig it! Would I love to see these two bury the hatchet one day and start over with an, ahem, blank slate? Sure. But for now, at least, I don't think the stars are ever, ever, putting this friendship back together.
Oh c'mon, like you didn't see that coming!