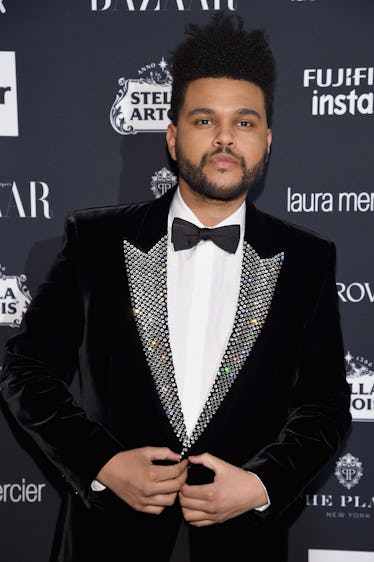 The Weeknd Is Single Now, Even After Allegedly Making Out With His Ex At Coachella
Dimitrios Kambouris/Getty Images Entertainment/Getty Images
I didn't realize I was at all interested in The Weeknd or is his romantic escapades until he released his new album, My Dear Melancholy, and the Taylor Swift-esque lyrics about his exes had me seriously invested in the fate of this dude's heart. For those of you who haven't been keeping up, the album is includes songs such as "Wasted Time" and "Call Out My Name" that seem to hint heavily about his relationships with exes Selena Gomez and Bella Hadid. Seriously, guys. The dude has some major feelings. And for those of you wondering, "is The Weeknd single?" the answer is apparently, well, no.
But before we get into that, let's get you some sufficient backstory. To start things off, his song "Wasted Time" was pretty obviously about missing his ex Bella Hadid, whom he dated for almost two years. With lyrics like, "Wasted times I spent with someone else. She wasn't even half of you," he made it abundantly clear that his relationship with Gomez only made him miss his time with Hadid. And if you're still not convinced that the song was about Bella, let me point you to the verse in which he states, "You were equestrian, so ride it like a champion." You guys...BELLA IS AN EQUESTRIAN. Coincidence? I think not.
Rumors about a reunion between the two started coming about this past weekend (or should I say "weeknd," LOL) when the exes were reportedly spotted canoodling at the pop-up of a nightclub called Poppy at Coachella. People reports that an onlooker stated: "The Weeknd and Bella were sitting on each other's laps and all over each other all night long." Another source added to Us Weekly that "They were completely all over each other."
Unfortunately, no matter how badly our hearts wanted that rumor to be true, Hadid has stepped forward to formally deny them by commenting "it wasn't me" on an Instagram stating the couple were "kissing all night."
it wasn't me
OK, so it doesn't look like he's with Bella. So who is he with? Well, some reports were saying that he could potentially be seeing Chantel Jeffries. Who is Chantel Jeffries, you ask? Don't worry, I didn't know either. Aside from being The Weeknd's rumored new hookup buddy and Justin Bieber's ex, Jeffries is a 24-year-old DJ who actually had the honor of playing at Coachella this year at the Apple Music x Beats 1 party.
According to reports from sources who were at Coachella, the two were spotted partaking in some...hmm...let's call it PDA adjacent behavior. By that I mean, they weren't overtly making out or anything but were, instead, displaying more innocent signs of affection such as hugging. At one point, an onlooker reportedly even saw Jeffries resting her head on The Weeknd's shoulder.
Oh, and if you want a visual of Jeffries, here you go:
That being said, again, their contact was pretty minimal and very innocent according to reports so the two very well could just be friends. Two extremely hot, talented, musical heterosexual friends of the opposite sex. Right.
So, again, we're back at square one wondering: IS THE WEEKND SINGLE? Well, it's finally been confirmed that, despite these rumors of possible romances with Hadid and Jeffries, he is, in fact, single. A source close to the 28-year-old artist told People that he "isn't serious with anyone" and is enjoying his time on his own.
You do you, dude. You do you.
Check out the "Best of Elite Daily" stream in the Bustle App for more stories just like this!