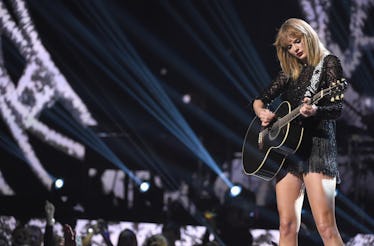 Taylor Swift's Song "End Game" May Be About Joe Alwyn & We're Here For It
Kevin Winter/Getty Images Entertainment/Getty Images
Taylor Swift's latest album Reputation is definitely not lacking in the love song department. Fans have been speculating whether the slew of romantic tunes off Reputation are about Swift's new man — and for the most part, the consensus is a resounding yes. So is "End Game" about Joe Alwyn, too? It sure seems like it.
"End Game," the smooth yet upbeat second song on Taylor Swift's latest album, features Ed Sheeran and Future, who are the only two artists to be featured on Reputation. But enough about them already — the lyrics are what we're thinking about. The song begins with Swift singing the chorus, followed by Future and Ed Sheeran's verses before Swift sings her own. Swift sings at the start of the song:
I wanna be your end game
I wanna be your first string
I wanna be your A-Team
I wanna be your end game, end game
Clearly, whoever T.Swift is singing about is the guy that she wants to keep around forever, which many fans already think is her current boyfriend, Joe Alwyn. Alwyn is an up-and-coming British actor who is rumored to have been dating for about a year now. And while he isn't exactly household name yet (apart from, you know, dating Taylor), Alwyn is definitely on track to make a splash in Hollywood. He's already shot a film opposite Emma Stone, and has two upcoming movies where he'll share the screen with Hollywood heavy hitters Nicole Kidman and Russell Crowe. So yeah, Alwyn is moving up the ranks.
But for the most part, the public doesn't know all that much about Swift's new relationship, which is another reason why fans are thinking that Alwyn is finally the guy that's gonna stick. After dealing with the drama of a couple of very public relationships and subsequent breakups (with Jake Gyllenhaal, Calvin Harris, and then infamously with Tom Hiddleston), the fact that Swift is going to great lengths to make her relationship with Alwyn private signals that she's super serious about this one.
And if "End Game" is, in fact, all about Alwyn, it's even more proof things are getting heavy. Swift sings in her verse at the tail end of the track:
And I can't let you go, your hand prints on my soul
It's like your eyes are liquor, it's like your body is gold
You've been calling my bluff on all my usual tricks
So here's a truth from my red lips
She follows this verse with the chorus, singing, "I wanna be your end game." So if this isn't about Joe Alwyn, please tell me who it is about. Because I don't think there are any other viable options.
This is the real love that Taylor Swift has been singing about since she first introduced herself into the music scene at 16 years old (think the Tim McGraw days) — and her fans are here for it.
Even besides the speculation about who the subject of the song might be, there's plenty to enjoy. The structure of the song doesn't follow the traditional way a song flows, which makes it sound interesting and fresh placed against the rest of the album's tracks. Clearly this song is gonna be a hit.
It's likely that we'll never know for sure if any of the songs on Reputation are about Joe Alwyn or not, speculating with T.Swift fans is surely entertaining enough. Although for the most part, I think it's spelled out in black and white here. Taylor Swift is in love and this album is the product of this new love she's finally found. You go, Tay Tay. I hope to hear wedding bells in the near future.