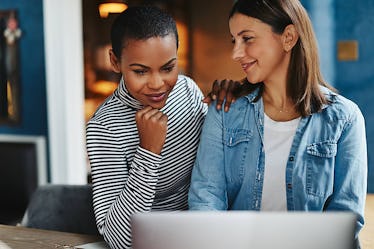 This Is How You Know You're Ready To Have A Joint Savings Account With Your SO
With factors such as economic history, current income, spending habits, organization, and personal preferences at play, no two couples will treat money the same way. Every individual and couple are going to handle their finances differently. Sharing money with a partner in any sense might not be your cup of tea and that's OK. But if you and your partner are committed to a long-term future together, it might be the right choice for you. One choice you'll be tasked with making is deciding whether to open a joint savings account with your significant other. For some, sharing money with a partner will always be a "no" because it can feel messy or like your partner will take your bank account for granted. People shoot down the idea of a joint bank account for similar reasons, security concerns, and the belief that you'll never be able too surprise your partner with gifts.
That being said, consider this: Just because you have a joint savings account with bae doesn't mean you can't also have your own separate checking and savings accounts. And there are certainly a few instances where sharing funds in the form of joint savings can go a long way. But to figure out whether a joint savings account is the best option for you and your partner, it's crucial to talk it out. Here's some advice from money experts on how to figure out if a joint savings account is right for you and how to have that money conversation with your partner.