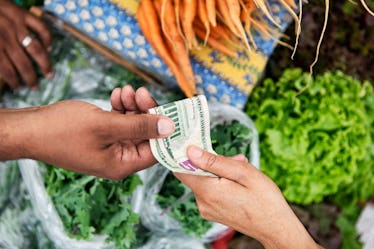 Talking About Money In A Relationship Can Be Tricky, But Here's What An Expert Suggests
In relationships, there may be some personal conversations you and your partner should have sooner or later, even if they might make you slightly uncomfortable — and money is one of them. Figuring out how to talk about money in a relationship can be tricky because it may be a touchy subject for your or your partner. Depending on what stage of the relationship you are in, how thoroughly you discuss money varies. If the relationship is still new, there's only so much you need to divulge to your partner. But as the two of you get more serious, knowing the extent of each other's financial situations may become more important.
Like you would discuss anything that is important in a relationship, the best way to talk about money in a relationship is calmly and firmly, says dating and relationship coach Frank Kermit of FrankTalks.com. "Speak to gain information and insight, leaving out any feeling of being attacked or judgement on the other person," he tells Elite Daily. If you're casually dating, or the relationship is still fresh, talking about money is on a need-to-know basis, Kermit says. "There is some information about personal income that a person does not need to know if there is no firm commitment established," he elaborates. So, if you're wondering how to talk about money, here's what Kermit had to say.