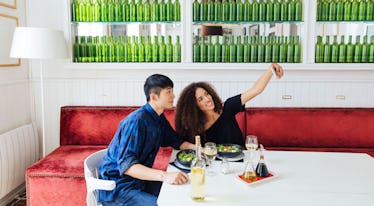 7 Fancy Date Ideas For Big Relationship Milestones, Because You Deserve To Treat Yourself
As great as it is to be in a happy, healthy relationship, it can also be a little stressful to have to keep coming up with fun date ideas — specifically when you're celebrating something special with someone you love and you have no clue where you should go. But you've come to the right place, my friend! These fancy date ideas for big relationship milestones will help you figure out the ultimate date night for when something big and exciting happens. Because no, you shouldn't just treat yourself on your birthday, you guys.
If you're celebrating one month together, a year together, a promotion, or even an engagement, you might want to do something memorable and mix it up from your regular date nights. Heck, maybe you'll even go on a weekend getaway. Really, there's no limit to what you can do, and no matter what your budget is, you can find something perfect for you and your boo.
My now-fiancé and I celebrated being together for six months by going to get a couples massage that he had booked and planned in advance and surprised me with. I'm a big planner, so he decided to take charge and it was so relaxing and romantic. But every couple is different, and if you want to plan something fun, then you've come to the right place. Read on for the best bougie dates you've got to go on, ASAP.