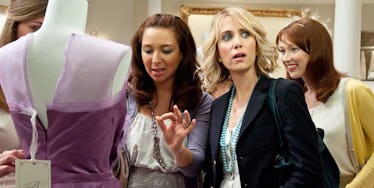 5 Badass Bachelorette Party Ideas When Your Girl Squad Is Broke AF
Universal Pictures/REX/Shutterstock
Being part of the bride tribe is a pretty awesome feeling.
Between throwing an incredibly lit bachelorette party, to being there for the bride every step of the way as she plans for the big day, the bridesmaids certainly have their hands full.
We all know weddings can be extremely expensive, especially if you're asked to be part of several celebrations throughout the summer. Let's just say your wallet will probably be looking pretty sad once September rolls around.
But, you can still throw your bride-to-be an awesome bachelorette party, even if the entire girl squad is broke AF.
Here are five bachelorette party ideas for when you refuse to let being broke cramp the party vibes.
1. Classy "Great Gatsby" themed pool party
This soiree will be nothing short of classy AF, complete with all of the glitz and glam of the roaring 20s.
If one of you in the bride tribe has a pool, that's the cherry topping to the entire affair. Tell the squad to come dressed in their finest black and gold attire, as the bride will be wearing all white, of course.
The decorations can coordinate perfectly with the "Great Gatsby" theme, from gold balloons and glittery champagne flutes, to mercury glass votives and vases filled with white roses and feathers to make the most elegant statement as centerpieces.
The bridesmaids can get their DIY on and make some metallic tissue poms for the dessert table, which can serve guests a delicious tray of pearl cupcakes.
2. Glamping in your backyard
For a more glamorous approach to camping, set up a beautiful tie-dye tent with plush pillows, blankets, neon lanterns and lots of string lights. Your bride will feel like she was transported straight to a boho-chic glamping resort made just for her.
Tell everyone to come dressed according to the festival theme, and be prepared to make flower crowns and boozy snow cones. Don't forget to hang up a tie-dye sheet for the photo booth, along with heart-shaped sunglasses and props, of course.
3. Progressive dinner party
A progressive dinner party simply means each course of the meal is eaten at a different host's house, all within the same evening.
For an awesome and unique bachelorette party, each stop you make throughout the night should follow a fun theme.
For example, the person in charge of drinks and apps can roll with a "Tropical Oasis" theme, complete with fruity cocktails to drink out of coconuts, painted pineapple floral arrangements, pastel balloons and fresh flower leis.
The lady in charge of hosting the gals for dessert (and the sleepover portion!) can make lingerie cookies, birthday cake shots, Funfetti pancakes and pink doughnuts.
And this "Pancakes and Pajamas" theme is adorable (and super Instagram-worthy) for the last stop on your trip, if you add a boozy spin to it.
4. Boozy brunch inspired by Audrey Hepburn
This is the ultimate way to put a creative spin on your typical boozy brunch.
If your bride-to-be is a hardcore brunch connoisseur, she'll probably crave something different. If she also happens to be a sucker for the classics, this is a fun take on weekend brunch that she'll fall in love with.
Pick out a trendy place she's been dying to go to, or a restaurant you know she'll enjoy. For this party idea, every gal in the bride tribe can dress up like Audrey Hepburn in her own way. Have fun with it!
Embrace a day filled with booze, tea, croissants, games and memories Audrey Hepburn herself would be proud of.
5. Day trip to a winery
If a weekend getaway will break the bank, planning a day trip to a winery is a perfect alternative.
Choose a vineyard with the most exquisite backdrop to offer your bride, to guarantee her all the pictures her heart desires.
Once you ladies enjoy a tasting and tour of the winery, get ready for an afternoon filled with sipping and savoring.
Set up camp in the picnic area, armed with your bachelorette decor and table settings to coordinate with the theme you have in mind. If you want to keep everything fresh and summer-chic, tell the ladies to wear sun hats, wedges and sun dresses.
For a delicately classy ambiance, decorate the table with lace doilies, rose gold plates and floral arrangements of hydrangeas and peonies.