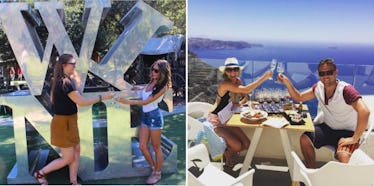 13 Dreamy Wineries Across The Globe Every Wine Lover Needs To Make A Stop At
Instagram
If you're a wine aficionado with a passionate travel gene, why not kick off summer with a boozy bang?
Pack up your bags and make sure you grab your trendiest pair of sunnies (and fabulous sun hat, of course). Get ready to jet off to one of the most exquisite wineries in the world.
Let's be honest: You (and your palate) deserve it. Treat yo'self, because there's truly no time like the present to embrace your wanderlust, and satisfy your inner wino.
First and foremost, it can be pretty difficult to pinpoint the kind of vacation you want to take, where in the world you want to explore next and who you want to travel with. Decisions, decisions.
And when your wanderlust is calling out, it's an even tougher task to tame the calling.
In attempts to ease a bit of your struggles, we came up with the 13 dreamiest wineries across the globe you need to check off your bucket list. From the rolling landscapes and architecture, to the impeccable cuisine and fruit of the vine itself, these wineries are the cream of the crop.
For the majority of these destinations, you'll have to see them to believe they actually exist, because they're downright stunning.
Once you decide on your dream destination, you'll be kicking back and sipping up in paradise in no time. So, let's cheers to that...
1. Santo Wines in Thira, Greece
2. Cape Point Vineyards in Cape Town, South Africa
3. Malibu Wines in Malibu, California
4. Ledson Winery & Vineyards in Kenwood, California
5. Beringer Vineyards in St. Helena, California
6. Chateau Montelena in Calistoga, California
7. Domaine Carneros in Napa, California
8. Castello di Amorosa in St. Helena, California
9. Chateau Margaux in Margaux, France
10. Chateau Pichon-Lalande in Pauillac, France
11. Chateau Ducru-Beaucaillou in Saint-Julien-Beychevelle, France
12. Máté Winery in Montalcino, Italy
13. Villa Vignamaggio in Chianti, Italy
What are you waiting for? It's time to hit the road.