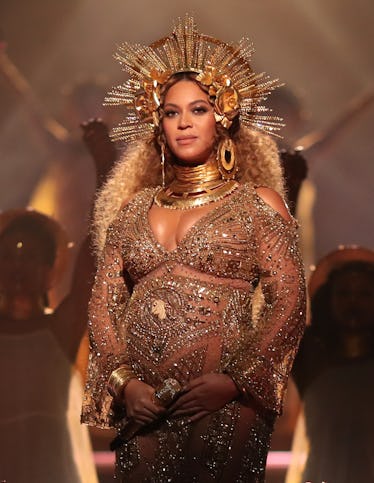 This Spa Is Offering Beyoncé-Themed Beauty Treatments During Virgo Season, So 'Glow' On
Christopher Polk/Getty Images Entertainment/Getty Images
Sept. 4, 2018 will mark 37 beautiful years that this earth has been blessed with Mrs. Beyoncé Giselle Knowles-Carter. You can celebrate the occasion by listening to Beyonce "All Night" long, or going to your local OTRII show, but if you're able to check out this hotel's Beyonce spa treatment, I'd do that. The spa is in Washington, D.C., so be thankful AF if you live there, or book yourself a bus, train, or plane ticket to get there.
The Argentta Spa is part of The Watergate Hotel in Washington, D.C. and it offers a list of luxurious high end treatments. Their typical menu includes a variety of massages, body scrubs, facials, manicures, pedicures, and waxing. In honor of the one and only Beyoncé's 37th birthday, however, Argentta is putting a fun twist onto some of it's treatments, to pay homage to Queen Bey.
Beyoncé's birthday is but one day of the month, Argentta, however, is graciously offering these treatments for the duration of the September. There are four limited-edition spa treatments to choose from, and trust me, it's going to be hard to choose. As the spa's website says, "Let out your inner Yoncé one day a year," and treat yourself to some good old fashioned self-care. You know Beyoncé would.
Bey and Jay Couples Massage
($510; thewatergatehotel.com)
Whether you've got a significant other to get rubbed up with or you want to bring you BFF, this full-body, 90-minute back scrub massage sounds like pure nirvana. It's an aromatherapy and back scrub massage that uses "a blend of essential oils and purposeful movements to stimulate circulation, promote deep relaxation and restore the flow of energy throughout the body."
Couture Lemonade Facial
($320; thewatergatehotel.com)
Obviously a regular ole' Lemonade facial wouldn't be sufficient for Bey, which is why Argentta cooked up this couture option. "A luxury cellular treatment designed for anti-aging and complexion enhancement, [it's] customized to your skin type and age," as per the spa's menu. Plus, you'll get a complimentary glass of lemonade to enjoy while you're there.
BeyHive Honey Infused Manicures
($55; thewatergatehotel.com)
I'd be shocked if anyone told me that Beyoncé doesn't always have her nails done. So do as she does and gift yourself this manicure that will "smooth, tone and brighten your hands and nails [with] antioxidant-rich berries, organic mushrooms and pure plant hydrosols." This treatment promises to restore and heal your tired hands.
BeyHive Honey Infused Pedicures
($75; thewatergatehotel.com)
If you want to live like a true queen, you should definitely always have a pedicure. Argentta boasts that this "extraordinarily nourishing treatment delivers a surge of hydration while firming and toning the skin using antioxidant-right arctic berries, white peat enzymes and omegas 3 and 6." I don't even know what a lot of those things are so that must mean they're good for you.
Read more about the Beyoncé-themed spa options and how to book a treatment (or two) for yourself at The Watergate Hotel.
I can already feel myself relaxing.