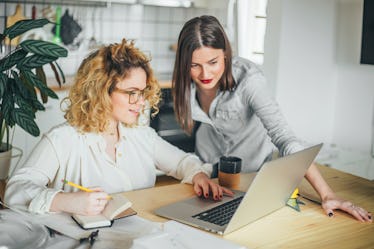 7 Questions To Ask Your Partner About Money Before Moving In Together, Because Love Can't Pay The Bills
When it comes to serious relationship questions that have been depicted in rom-coms for decades, "Do you want to live together" certainly seems to be up there with, "Will you marry me?" But after the butterflies and excitement about new relationship transitions pass, you might notice some questions to ask your partner about money that begin to come to mind.
After daydreaming about the perfect apartment, or scrutinizing over what color bedspread you and your boo should get, there may be a few topics of discussion that aren't super fun nor easy to address — but are necessary all the same. From gas bills to internet providers, to discussing how to split the rent, money can be a grey cloud amongst the sunshine of excitement that living with your partner creates. But it doesn't have to be!
A shared living space means your boo is going to see you all the time. Like, no makeup, rolling on the floor of the bathroom with your tights half way down your legs after the new sushi-burrito fusion place gave you food poisoning, all the time. With that type of openness, a shared living space means conversations about money demand the same amount of transparency. But don't sweat it — through communication about your monetary goals and financial wellness, love truly can conquer all.
Here are seven questions to consider asking your partner about money before you shack up: