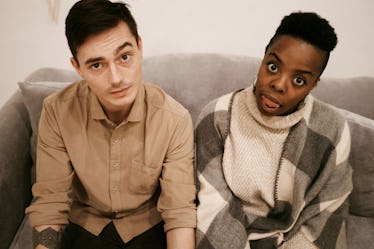 15 Memes About Living With A Partner That You'll Want To Hang On The Fridge
There's no wrong or right time to decide you're ready to move in with your partner, but there is a right time to look at memes. That time is all the time. Whether you've just started living together or have shared a space for while, these memes about living with a partner will hit close to home. The home you now both share. In sickness and in health, in Bachelorette season and in wedding season. Although, small pet peeves, like trails of dirty laundry or leaving lights on when you go to work, pale in comparison to the joys of living together (and the joys of paying half the rent and utilities, holla!) it's easy to get frustrated or flustered when first living with your special someone.
Moving in together is a big step in a long-term relationship. There's nothing casual about splitting your water bill or joint grocery shopping, let alone trying to find space for both party's clothes. With the little stresses that can come in any living situation, it can be healthy to take time to step back and laugh. From fighting over phone chargers, to blanket stealing, and feeling pressure to choose where to eat (getting secondhand anxiety just thinking about that one) here are 15 memes you'll want to print out and hang in your joint abode.