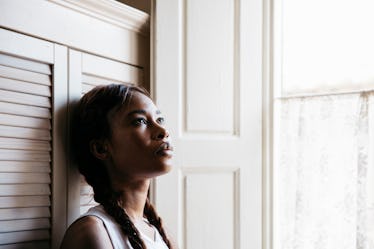 9 Problematic Red Flags To Watch Out For After Moving In With Your Partner
As I stood on my patio trying to figure out how I could make a giant red umbrella seem less obnoxious, I realized (for the millionth time) that living together wasn't working. My partner had purchased the patio set, umbrella and all, on a whim and graciously set it up while I was away. I know, I know. This sounds cute in theory and it was, except I despise the color red. And this patio set was as loud as they come.
Truth be told, it wasn't the actual set that frustrated me. It was what I felt the set said about our relationship. More than just the revelation that my partner didn't know me very well or seem to care about my preferences, I really struggled with not being included in the decision. It felt like a major change to our apartment and an overhaul of an area we'd been working on together.
I guess I knew that the patio set was just a physical realization of all the things I was already feeling, like I had lost myself in our apartment. I wanted my own space and the freedom to make my own decisions. I wasn't happy.
Living together had actually highlighted everything that was wrong in our relationship.
So my red flag was a bright red patio set. It might be something different for you. I spoke with Trina Leckie, relationship expert and host of breakup BOOST Podcast, who says if you recognize any of these nine things, you might want to reconsider living with your partner.