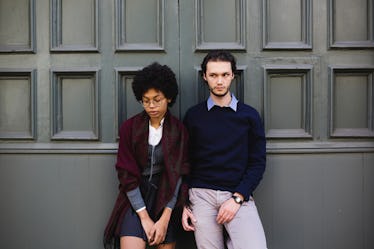 The Secret Meaning Behind The Small Thing You & Your Partner Always Argue About
As I angrily packed away the bath products my partner had left lying around on the vanity, I sighed in defeat. I could easily get into another argument with them about where things were supposed to go but that wasn't the real problem. Sometimes, fighting with your partner means more than you realize. Because this was a fight we had often, I knew what really bothered me was the feeling that I had lost my personal space when we moved in together, not wherever they left the toothpaste that morning.
I wasn't about to bring up the real issue, though. It was too heavy a discussion and I worried that I wouldn't be able to explain to my partner how I felt without hurting their feelings. We kept on having tiny fights like this for months about which chores were whose responsibility, which pieces of wall decor should go where, and even what brand of cleaning products we should buy. Inevitably, we broke up for unrelated reasons but I was relieved to regain some control over my living space and essentially, my life.
I know now that living with a romantic partner might not be the best move for me and that if I do try it again in the future, I should probably be way more honest about my need to maintain some semblance of personal space.
Turns out, couples have tiny fights about random, little things like this all the time. Anita Chlipala, licensed marriage and family therapist and author of First Comes Us: The Busy Couple's Guide to Lasting Love, says this problem is so common that when she works with couples, she's usually listening for what they really mean rather than what they're verbalizing.
You too can figure out the true meaning behind those seemingly pointless fights you and your partner have repeatedly by asking yourself these three questions.