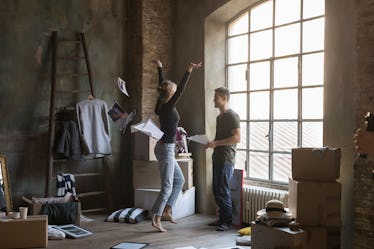 6 Ways Living With A Partner Is Nothing Like Living With A Roommate, So Get Ready
Deciding to move in with your partner is a super exciting step to take in any relationship, but some people make the mistake of thinking that moving in together isn't that big of a deal, because after all, if you live in a high-rent city like New York, having some kind of cohabitation situation is pretty common. So like, why not cohabitate with someone who you love and can also have sex with, am I right? But, living with a partner is different than a roommate in a few key ways that are important to consider.
That's not to say that either living situation is better or worse than the other, because as someone who's enjoyed the benefits and experienced the pitfalls of both, different feels like the best word to sum up the comparison. When in the process of considering if moving in with your bae is a good idea, it's important that cost not be the deciding factor, because IMHO, that is not a good reason to take such a huge step. Even if one of you is totally pumped and the other is more apprehensive, rushing into things could definitely lead to some major issues down the line. So, here are the good and the not so good ways living with a roommate and living with your partner are totally different.