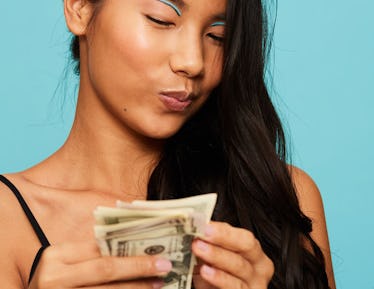 3 Things To Discuss Before Starting A Savings Account With Your Partner, So You're Ready
As a relationship progresses, there comes a time when pooling some of your financial resources starts to make a whole lot of sense. Even if you're in an awesome groove when it comes to bouncing various costs back and forth, once you begin planning for the future, a shared account might be a good idea. If starting a savings account with your partner is something you're considering, having a conversation to ensure you're both on the same page when it comes to finances is the best first step.
Even though broaching serious conversations like this can feel a bit intimidating at times, communicating about money is an important part of assessing the long term compatibility of a relationship. To better understand how to talk about saving money with an SO, I spoke to NYC-based relationship expert and love coach Susan Winter. "This should be an automatic discussion if you're intending to move in together," Winter tells Elite Daily. "It's also important if you're engaged or otherwise a definite couple not living together, but saving jointly for a vacation and travel plans." According to Winter, hashing out the following three points before opening a savings account will help you avoid money fueled disagreements later down the line.