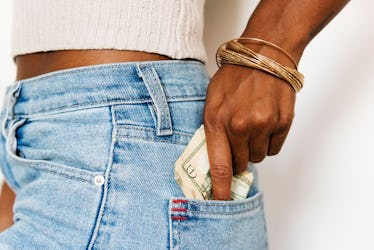 Here's How To Train Your Brain To Save Money, According To An Expert Researcher
Saving money can be intimidating — I totally get it. Welcome to the club, my friend. Keeping an eye on your budgeting and expenses is one of those markers of adulthood that you don't even want to think about, like, at all, let alone actually do. But the thing is, learning how to train your brain to save money may be a lot simpler than you'd expect. The first step, according to the results of a new study, is to recognize what your brain's initial impulses are when it comes to money in general. Spoiler: Your noggin isn't exactly that keen on putting money away, either (I know, I'm sorry).
The new study, which comes from Cornell University and has been published in the scientific journal Nature Communications, suggests that the human brain has an actual bias toward earning money, which apparently translates to you being a lot more concerned with making cash dollars than saving cash dollars. Ugh.
For the study, as per the Cornell Chronicle, researchers conducted a series of experiments with 78 young adults that showed that, when people are equally rewarded for both earning and saving money, they're still more likely to try to earn cash than save it.
Study co-author Adam Anderson told the Cornell Chronicle,
Fundamentally it comes down to this: saving is less valuable to our brains, which devote less attentional resources to it. It's more than a financial problem of making ends meet. Our brains find saving more difficult to attend to.
Though he wasn't involved in this particular study, John Assaraf, a brain researcher, behavioral expert, and author of the new book Innercise: The New Science to Unlock Your Brain's Hidden Power, says this Cornell research really hits the nail on the head when it comes to the difficulties we humans have with saving money. "The brain loves to create habits so it can save energy," he tells Elite Daily in an email. "It's a lot easier to automatically carry out familiar tasks without thinking about them than it is to innovate."
In other words, if you're someone who's, you know, not great at saving money, then those habits you've already formed around your finances are likely keeping you from seeing new solutions to your budgeting woes.
So listen, if this all sounds uncomfortably familiar, first of all, same. But seriously, according to Assaraf, it's absolutely possible to transform your mindset about money, regardless of who you are or what your financial situation currently looks like. Here are some of his suggestions.