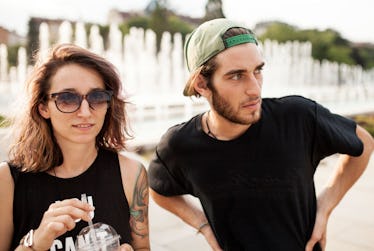 If Your Relationship Is In Crisis Mode, You'll Notice These 7 Signs
Every relationship goes through its fair share of ups and downs. No matter how connected you are, or how well things have gone in the past, you're never going to have smooth sailing together 100% of the time. Usually, rough patches are nothing to worry about, but occasionally, they may signal a deeper disconnect between you and your partner. If your relationship is in crisis mode, you probably need to do some soul-searching about whether it's meant to be.
First of all, it's important to realize there's a difference between a bad day or week and a long-term change in behavior. "All couples go through peaks and valleys and bumps on the road," online dating expert Julie Spira told Elite Daily. "It's not unusual for someone to have a bad day at work and feel grumpy, but if you feel over days or weeks that you're not in sync and that your regular flow has been interrupted or diluted, it's a sign your relationship is off track." At that point, you'll need to think about whether you want to fix things and stay together, or whether it's best to end the relationship and move on. There's no set formula for making this decision, so don't feel like you have to make a choice right away — but you should take note of these signs that your relationship is in major SOS territory.