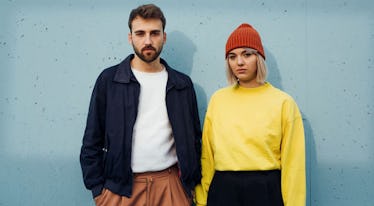 Here's How Experts Say You'll Know If Your Relationship Is Struggling, So Take Notes
Relationships can really help you grow and learn — about both yourself and your partner. Being in a partnership with someone means that you'll probably have to learn to compromise, you'll disagree on things, and you'll deal with hard times together. When you're in the thick of an argument with your partner, it's important to remember that every relationship has its ups and downs, and that things between you two won't always be sunshine and roses. There are several things you'll notice if your relationship is struggling that are good to keep an eye out for, so that if you catch these issues in time, you and your partner can work through them and move forward.
"All couples go through peaks and valleys and bumps on the road," online dating expert Julie Spira tells Elite Daily. "The key to making it past the rocky times when your relationship is struggling is to make sure you communicate when something feels off."
As Spira says, it's normal to go through rough patches with your bae, but the important thing is to not let it get to you too much, and to be honest with your partner about the things that bother you. "When you're in a relationship, you know your partner so well, that you always know in your gut something is wrong. It's not unusual for someone to have a bad day at work and feel grumpy, but if you feel over days or weeks that you're not in sync and that your regular flow has been interrupted or diluted, it's a sign your relationship is off track."
Here are a few more concrete signs that your relationship is struggling. Take notes!