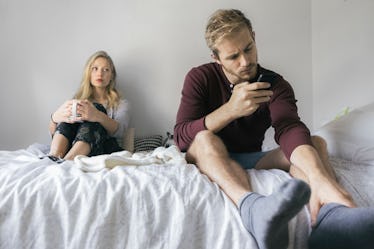 4 Signs You Need To Take A Break From Your Relationship, But Not Break Up
"Let's take a break." Uttering (or hearing) those four little words may feel next to impossible, but the fact is, saying them may very well be the thing that saves your bond. Hitting pause can not only give you the space you need to sort through your differences, but it may also offer a fresh perspective that will enable you to work through ongoing problems in a new way. But how do you know when you need to take a break from your relationship?
There are a variety of reasons why a couple might decide to take a break. Maybe one person needs to reflect on some personal issues relating to self-esteem, trust, or deep-seated fear. Maybe both people need some time and space to identify the dysfunctional aspects of the relationship before diving in to resolve them.
Just ask my aunt and uncle. The two decided to go their separate ways for a bit during college, and now they've been happily married for 22 years. According to them, that time apart opened up their eyes to what was and wasn't working, which then allowed them to re-approach the relationship as better partners.
Regardless of your reasoning for taking a break, Dr. Joshua Klapow, a clinical psychologist and host of The Kurre and Klapow Show, says it's crucial to first figure out why you're seeking some time apart.
"A 'break' in the relationship can be defined and deployed in so many different ways," he tells Elite Daily. "What is most important is to understand what the break actually means, why you all are putting [it] in place, and what you hope to accomplish from the break."
So, how can you tell when to take a break rather than break up? Here are some subtle signs to look out for.