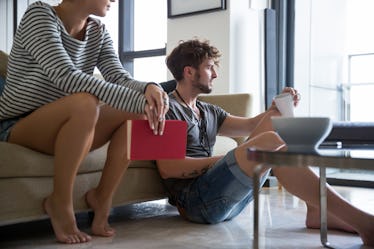 An Expert Breaks Down How To Talk To Your Partner About Your Relationship Fears
Have you ever been in a relationship and wanted to say something like, "I'm afraid you're still not over your ex," or "I'm afraid I'm more into you than you're into me," to your partner but just couldn't? Have you ever felt like you don't know how to tell your boyfriend or girlfriend something is bothering you without them getting upset or shutting you down? It's OK. Truth is, it happens to the best of us. But it doesn't have to.
If you're in a committed relationship, you should feel comfortable talking to your partner about anything, especially the things that bother you.
I know that saying open communication is key to any relationship is a bit of a cliché but in this case, it's totally applicable. You can't expect your partner to discern every thought that goes through your mind, even if they are exceptionally attentive to your needs. You owe it to them and to your relationship to speak up if something doesn't feel right.
Anita Chlipala, licensed marriage and family therapist, says, "If you want a serious, long-term relationship with this person, there really shouldn't be anything that is off the table, so to speak. I don't mean saying whatever you want as harshly as you want. Not that. But I do mean that you should be able to approach your partner with any concerns and be listened to."
Here's how she recommends bringing up this potentially awkward conversation with your partner.
This article was originally published on