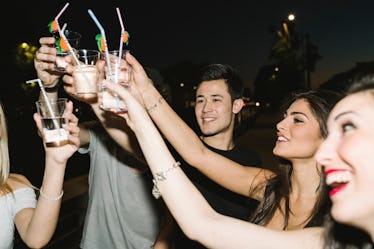 3 Red Flags To Look For When Dating Someone Who Likes To Party Harder Than You Do
Let me start off by saying there is absolutely nothing wrong with having a wild night when the mood strikes. Depending on your personality and lifestyle, the frequency with which you hit the town with your crew can vary drastically from person to person. And while turning up on the regular isn't necessarily a bad thing, knowing the red flags when dating someone who likes to party will help you figure out if their habits could develop into a bigger problem in your relationship.
Let's be honest: Having a partner in crime who's pretty much always down to meet you on the same level is pretty great — whether that's mutually agreeing to cancel plans and watch Netflix instead, or spontaneously deciding to get sloshed on a Sunday afternoon simply because you can. But sometimes we end up in relationships with people who have dramatically different habits than our own. The good news is this doesn't always have to be a deal breaker. If, however, you and bae rarely meet eye-to-eye on how to spend your free time and on what constitutes as fun, then this is definitely something that should be addressed — particularly when it comes to alcohol consumption. Elite Daily spoke with dating and etiquette expert April Masini of Relationship Advice Forum to better understand partying behavior that may cause a rift in your relationship.