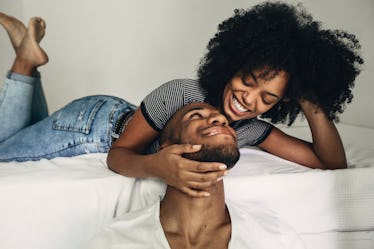 6 Women Reveal The Moment They Knew The Honeymoon Phase Was Over For Good
Ah, the blissful feeling of falling in love. You might think that the beginning of a relationship is the best part — you can't get enough of each other, you want to spend every minute of the day with each other, and you're both on your best behavior. However, I personally love the feeling of when you've both calmed down and settled into the relationship. There's something comforting in that, IMO, and there's usually a defining moment of when the honeymoon phase is over. Whether you realize it at the time or you can look back and pinpoint the precise moment it happened, transitioning out of the honeymoon phase and into the rest of your relationship is a natural development of being with someone.
I love talking to people about their relationships, how they met, and how they "keep the magic alive." I reached out to my friends and they shared with me the moment they knew their honeymoon phase was a thing of the past and they're all so relatable. Interestingly, almost everyone was very nostalgic about the early phase of their relationships, and almost wistful as they remembered falling in love with their partners. Then they quickly recalled the moment they realized their partner was no longer on their best behavior and that they were now just in "real life." Read on to hear their hilarious stories of those moments.