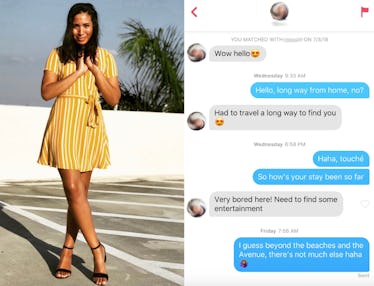 I Kept A Dating App Diary For A Week After Moving Back Home & It Surprised Me
Sydnee Lyons
Hey, you! Yeah, you swiping aimlessly through Tinder profiles on your phone. Obligaswiping just might be the worst millennial dating trend of them all, so cut it out. I admit, in a dating rut, I've fallen into the same mindless rhythm of swiping right on literally everyone, which is why I kept a dating app diary for a week to track my actual progress. Obligaswiping be damned. It was exhausting and, at times, excruciatingly boring. Not because of my matches or anything (they were all a hoot, you'll see) but because I made a routine of my swiping — a real, nightly obligation— that sucked a lot of the fun and spontaneity out of the online dating experience. To quote Cardi B, "right hand to Jesus," this is not at all what I set out to do.
You see, I recently turned my whole life upside down with a move back home to the Caribbean — Trinidad to be exact — after an almost decade-long stint in South Florida. Until now, I'd never adult-ed on the island I grew up on, which also means I never really dated here. There was no Tinder before I left home at the age of 17 and even if there was, it probably would have been off-limits at the all-girls Catholic high school I attended. Who am I kidding? We weren't even allowed to have cellphones.
I guess what I'm trying to say is, now that I'm back home, I feel more lost than ever. Weird, right? But like, I am literally lost all the time because I've never really driven here before and, trust me, Google Maps is having a harder time than I am. Forget navigation though, I don't even remember how to drive on the left side of the road. Remember when Cameron Diaz's character in The Holiday screeches at the sight of oncoming traffic while she's on vacation in England? That's me. So yeah, things are different here.
Apps like Spotify and Hulu, for example, aren't available locally and the apps that are available don't necessarily have the same cult followings they do elsewhere in the world. I used Tinder for this experiment, but when I tried to use another app, it kindly let me know that I was out of people to swipe through after, mmm, roughly 11 minutes.
Luckily, Tinder is popular here. Since I'm on self-imposed house arrest on account of my poor navigational skills, I figured I could kill time simultaneously swiping through potential summer flings and dodging people from my past. Like one does.
And with that, here lies my seven-day dating app diary.