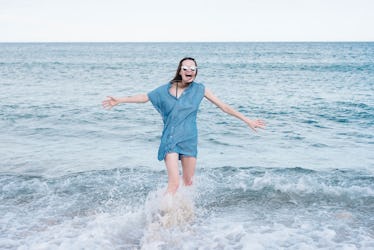 5 Tiny Challenges You Can Do To Put Yourself Out There More On Dating Apps
When you first set up your profile on a dating app, it's easy to play it safe. You can choose a few posed photos and write a basic bio. Once the initial excitement of downloading the app has faded, however, you might find yourself forgetting to swipe, check your matches, and respond to messages on a regular basis. Regardless of what you're looking for — a hookup, a relationship, a friend — it's always better to be yourself. But keeping it real doesn't mean you can't take any risks. If you're wondering how to put yourself out there using dating apps, good for you. You've taken the first step toward making real connections and having lasting conversations that go beyond superficial small talk.
There are a few different steps you can take to put yourself out there using dating apps. There are some small challenges for you below, but luckily, none of them require a crazy amount of confidence. While it's good to step outside of your comfort zone every once in a while, you don't need to push yourself too far past your limits. But if do you tend to be introverted, practicing these five steps on dating apps can help get you out of your shell when it comes time for you to meet people in real life.