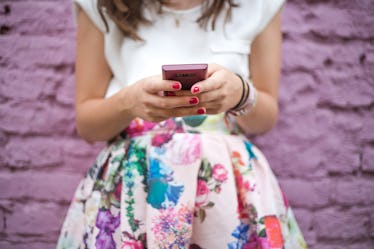 5 Funny New Tinder Bios To Try This Spring To Get More Matches Than Ever
I change my Tinder bio like I change my nail polish color — so not every day but about twice a month. I live in a college town, which means I sometimes fall into a rut of swiping through the same faces, just on different apps. The best way to avoid this, I've found, is to adjust my Tinder settings (location radius and age preferences), rotate my photos, and keep my bio funny and relevant. That said, it's time for a change. I've spent the last few days trying to come up with funny Tinder bio ideas for spring that'll keep my garden of matches blooming.
A relatable Tinder bio is just as important as a cute Snapchat filter on the cover of your dating profile. It encourages people to strike up a conversation with you based on the clues they've gathered from your bio. I don't know about you but I'm highly partial to any opening lines other than, "Hey, what's up?" There's nothing wrong with this casual opener but it's almost impossible to keep a conversation going with a practical stranger based solely on this line. I mean, do you really care how their day at school has been? I'm sorry, but if I met you (online) five minutes ago, I really don't.
Instead, I love when people include lines from their favorite TV shows or funny limericks in their bio because I get a better sense of who they are as a person. That helps me tell almost instantly if we share a similar sense of humor or if we enjoy the same types of entertainment. It's like a mini compatibility test that you don't want to fail just because you didn't care to get creative.
Luckily, I came up with more than just one Tinder bio for spring, so you're welcome to borrow any one of these.