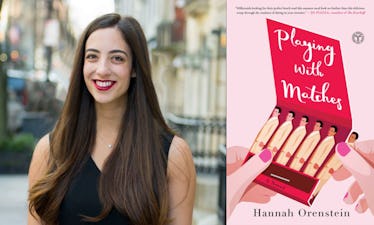 I Wanted To Read A Love Story Where Two Characters Met On Tinder — So I Wrote One
Elyssa Maxx Goodman + Touchstone Books
I love books about love — but they don't always make me feel good. Three years ago, I finished reading a book in which the protagonist bumps into a cute guy in her dorm while she's wearing nothing but a towel; he just so happens to be the prince of England, and by the end of the book, they wind up married. And while I loved the book, it also made me sad. People meet on Tinder all the time. Where are the great books about that? At the time, I'd been on dozens of Tinder dates... but I'd never bumped into royalty while half-naked, and I probably never will. I wanted to read a book that celebrated dating apps, where I've met more than half the people I've dated. So I wrote that book myself.
In my novel Playing with Matches, new college grad Sasha expects to land her dream job as a writer. But when that opportunity falls through, she scrambles to find a new career. She winds up working as a matchmaker for an elite dating service in New York. She hopes to find The One for her clients, like she herself did two years ago, when she met her boyfriend, Jonathan.
Sasha downloads Tinder in order to find matches for her new clients and — over a bottle of wine with her best friend Caroline — finds Adam, a writer with a sexy Southern drawl. She swipes right, they match, and soon, they're bantering back and forth about their mutual love for the '90s girl group TLC. There's just one catch: Adam thinks Sasha is single. When he finds out she's actually not single, but using Tinder on behalf of her mysterious matchmaking clients, he stops responding to her messages.
She's bummed — so she finds him on Instagram (Tinder makes that super easy), looks at the photo he posted and geotagged a half hour ago from a nearby bar, and heads straight there to meet him IRL. By the end of the night, she's convinced him to date her client.
When Sasha's boyfriend betrays her, all bets are off. You'll have to pick up Playing with Matches to find out what happens next, but I can promise that it's realistic. It was important to me to write a story that accurately depicted how it really feels to date in your 20s. Maybe you've met a prince while dressed in a towel, but I'm betting on the fact that you've probably had more experience swiping through dating apps while drinking wine with your best friend.
True, fiction should open windows to worlds you haven't seen before. But fiction should also represent the day-to-day realities of a reader's life. Personally, I wanted to see a protagonist use Tinder because I wanted to see my own experiences with dating apps captured in the pages of a book — not just in the screenshots I send to my friends. Dating apps lead to all sorts of spontaneous, sexy, hilarious, oddball moments, and we should celebrate that.
My favorite kind of book is the kind with a big, juicy love story. I love reading about meet-cutes, whirlwind romances, and happily-ever-afters. I totally get why escapist, outrageous love stories can be so much fun. But reality is also pretty sweet, too.
There's magic in finding your person (or your person of the week) from the comfort of your couch, just by scrolling through your phone. It's about time we had a book that represented how we date today. I'd swipe right to that. Wouldn't you?
Check out the entire Gen Why series and other videos on Facebook and the Bustle app across Apple TV, Roku, and Amazon Fire TV.
Check out the "Best of Elite Daily" stream in the Bustle App for more stories just like this!