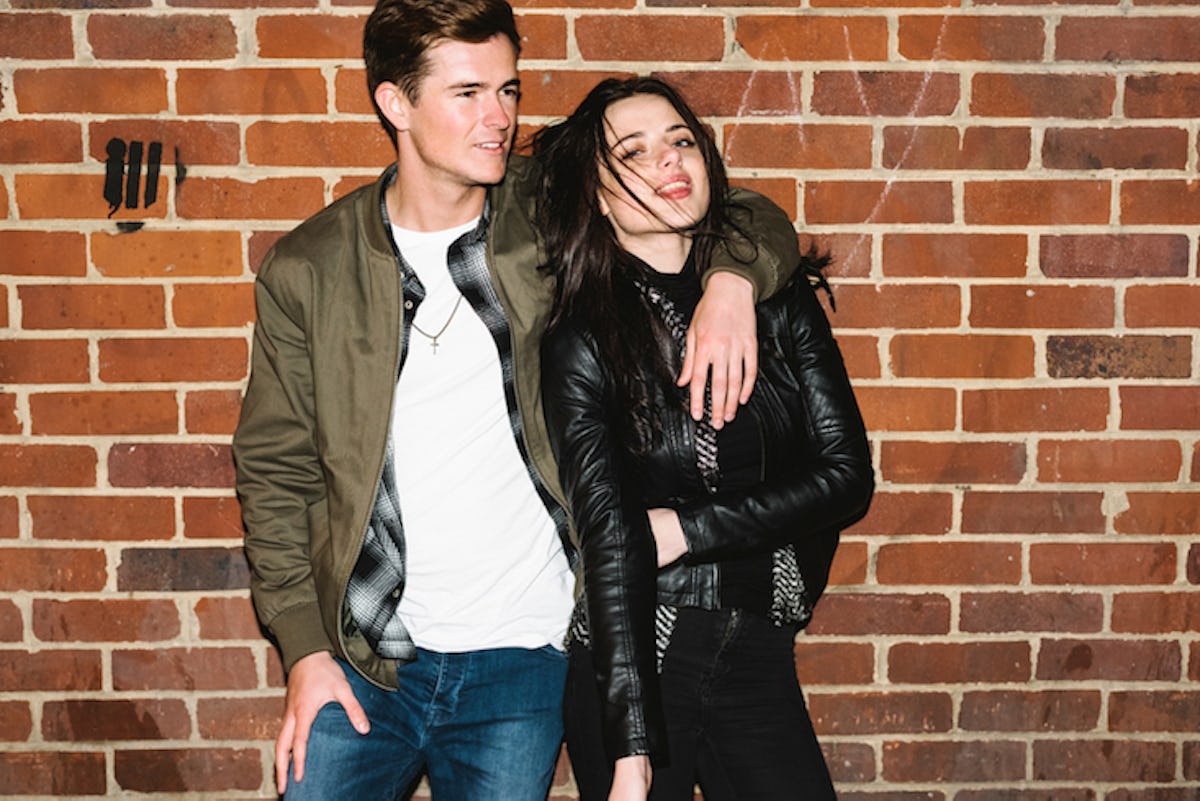 My Brother Took Over My Tinder For The Weekend & He Was Even Pickier Than I Was
The beauty of the internet is that you can be anyone you want to be, which is basically the premise of MTV's Catfish. Rather than trick people into having decades-long relationships with me via FaceTime Audio though, I decided to abuse the anonymity of the internet in a slightly less explicit way. I let my brother take over my Tinder account over Thanksgiving break — and it was savage AF.
My brother, Sean, is a 22-year-old computer science major. He's the kind of brilliant that doesn't need to study and his hair has always done this sort of effortless Johnny Bravo thing that is as annoyingly perfect as it sounds. The point is, he's easy to hate but it's OK because he knows it. Not unlike How I Met Your Mother's Barney Stinson, he is charmingly self-absorbed and wildly entertaining.
In fact, he is currently conducting an experiment with the residents in our building where he dances on the balcony every night at exactly 8 p.m. in the hopes that someone will come to expect him. You know, like Barney's neighbor did when Barney left his and Quinn's apartment every night at the same time for months so he wouldn't have to fart in front of his new live-in girlfriend. Barney's neighbor became so obsessed with figuring out the "little blond man" across the street that his wife eventually left him. This is the exact reaction my brother is hoping to achieve. So, yeah, totally normal.
Like Barney, Sean also has very specific rules about how he interacts with people, so I knew I was in for a treat when I asked him to take over my Tinder. For the most part, all of his decisions were surprisingly insightful and well founded — and not at all what I expected from the guy who dances to Post Malone on a nightly basis for an audience that may or may not exist.
We began with my Tinder settings. For my location radius, he said, "Five miles is fair because you have to consider driving distance and we share a car!" He made excellent points here, so I obliged.
For my age preferences (I am 26), he explained, "You don't want people younger than you because I know you don't like that. But you also don't want somebody over 30 because then you have to think about kids and ex-wives. Plus, they probably won't get your memes." Again, fair points. If I can't communicate with my match in memes and nothing else for 24 hours straight, what am I even doing here?
Even with these restrictions in place, I made sure I was present whenever he was trolling through potential matches so I could ask him to rationalize his choices and boy, did he. I quickly learned that his list of Tinder rules was far longer than my own and that maybe I should be pickier? Sean and I swiped through a total of 30 potential matches who made it past first-round eliminations. So, did I find love? Well, not exactly. There were more rules.
1. Tim, 28, self-employed, 14 miles away
"He's flexing in his default photo? Oh, that's a no."
2. John, 28, self-employed, seven miles away
"OK, let's make a new rule. Swipe left on everyone who is self-employed because that just means they're unemployed or into some black market stuff they can't put on here. Always a red flag."
3. Ryan, 27, self-employed, five miles away
Although Ryan was self-employed, Sean wanted to take this opportunity to show me why this rule would come in handy. Ryan went on to fail on three separate counts, according to Sean.
"What the hell is he holding?"
A large, dead fish that spanned the entire length of his body. In fact, there was only a single photo of Ryan's that didn't include a dead animal (no, they weren't all fish) and, in it, Sean declared that he resembled Baymax from Big Hero 6.
"Is he wearing overalls?"
He was.
"No bio but his anthem is 'Rockstar' by Post Malone and 21 Savage. I actually approve of the song but it doesn't seem to fit him because, you know, overalls. Also, no bio suggests he's not looking for anything serious."
Then, he literally said:
And with Ryan, a new rule was introduced: no bio, left swipe.
4. Joey, 27, 11 miles away
"He looks like a budget Leonardo DiCaprio. He loves dogs, you love dogs. He loves photography, you love photography. He's adventurous, you're insane. He drinks white wine, you drink red wine… so that's a bit of an issue. Still, for you, I'd say yes. Just sad that it took him so long to win an Oscar." His first right swipe and, Academy Award shade aside, it was a match!
5. Nico, 27, eight miles away
"He looks like the type of person who wears Thrasher hoodies [a lifestyle brand for skateboarders] and I don't really think that's your type. He also looks like he smells like weed and Doritos."
6. Carlos, 30, 14 miles away
The last two lines of Carlos' bio read, "Honestly, I'm just a good-hearted guy. Looking to hang with who wants to hang in my company." And my brother had some thoughts. "If you have to write that you're a good guy, you're not. And 'looking to hang with who wants to hang'? That sounds kind of desperate."
7. Theo, 27, no distance
"The fact that he has no distance means he's using Tinder Plus to hide or alter it and, either way, that's not what you're looking for." You guessed it — new rule!
8. Jay, 29
I didn't have time to note any of Jay's information because Sean immediately swiped left on what looked like a Brooks Brothers ad, claiming, "K, that's obviously a fake account."
9. Matthew, 29, 11 miles away
"Face photos only, no other people in any them. What are you hiding, Matthew?!" Two new rules.
10. Jake, 28, four miles away
Jake was holding not one but two dead fish in his default photo, making him a definite left swipe, but Sean wasn't done making an example of Jake. You see, Jake's bio was written entirely in emojis, which Sean did not care for at all. New rule.
11. Tony, 29, two miles away
Tony's bio: "My mom won't do my laundry anymore, so my clothes will probably be wrinkly when we meet. Bonus points for being honest?"
Sean: "What's that J. Lo song you like? 'Ain't Your Mama'? She wrote that about this guy. Even I know how to do my own laundry so absolutely not! I can't even deal with this guy."
12. Eddie, 29, four miles away
Eddie's bio: "Kinda athletic, kinda nerdy, slightly neurotic…"
Sean: "Is he good at anything? Does he not know who he is as a person?!"
13. Jonathan, 27, seven miles
Jonathan thought he was being clever and trendy when he wrote in his bio, "Chipotle should have a drive-thru."
Sean did not. "I mean, I just feel like a drive-thru at Chipotle wouldn't work because like, do you go to a new window for each topping? I guess if it's like at the carwash where you put your car in neutral and a conveyer belt pushes you along? But Chipotle already has online app ordering. I just feel like this is unnecessary. He seems impatient. And lazy."
14. Justin, 27, 13 miles away
"Pilot? Cool. He's wearing a suit? Cool. It's a nice suit, too. For the record, people who wear untailored suits should just stay home."
Right swipe.
15. Paul, 27, two miles away
"People named Paul are automatically boring," Sean claimed. Paul mentioned his love for podcasts in his bio, which Sean took as evidence of his theory.
16. Justin, 27, three miles away
"Yes, because his anthem is 'Whip My Hair' by Willow Smith."
17. Chris, 28, 14 miles away
Chris was doing a fratty fingerpoint in his default photo, which Sean had zero tolerance for.
18. Sebastian, 26, two miles away
Sebastian's bio said, "I have more Boomers! tickets than you."
If you don't know, Boomers! is an arcade and outdoor arena that, admittedly, is pretty fun even at 26. Sean agreed and swiped right on Sebastian.
The verdict? Of the 30 guys who made it past the first round of eliminations, 18 advanced to the finals, but Sean only had roses for three. Of these three, I matched with two: Joey (the "budget Leonardo DiCaprio") and Sebastian (the Boomers! guy). I was finally ready to take the next step and message them both when Sean informed me of his most important rule of all.
"Never, under any circumstance, message your Tinder matches first. Always adopt the mindset that you are the prize. If they really want to talk to you they will. That's how I live my life and I have no regrets." Like I said, savage AF.
It's been a couple days since I matched with my brother's Tinder picks and, sadly, neither of them has contacted me. But I'm OK with it. Savage as he is, Sean actually had some pretty solid advice about online dating. The fact that he was way pickier than I am on Tinder showed that he was actually invested in the experiment and that I should definitely hold my matches (and myself) to a higher standard. "Know your worth, then add tax," as Sean would say.
Check out the entire Gen Why series and other videos on Facebook and the Bustle app across Apple TV, Roku, and Amazon Fire TV.
Check out the "Best of Elite Daily" stream in the Bustle App for more stories just like this!