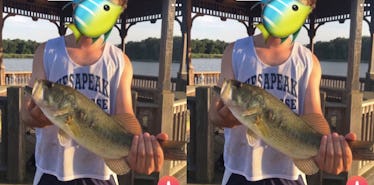 I Swiped Right On Every Tinder Guy Holding Up A Fish & Asked About Their Pictures
Elana Rubin/Tinder
In all my years of Tindering, the Fish Men have always mystified me. You know who I mean: Those guys whose photos are, like, Dude Holding Giant Fish; Dude On A Boat Holding A Medium-Sized Fish; Three Dudes On A Dock Showing Off More Fish. Why do guys use photos with fish on Tinder? I wanted to learn more about this dating trend.
I was vegan for eight months, vegetarian for a few more, and now, I'm a pescatarian, so I usually swipe left when I encounter a Fish Man. I don't understand why they think they'll get matches by showing off the dead fish. Maybe it's a strategy to attract another person who loves catching aquatic creatures? I'm not exactly without bias here, I know. But since I am a Very Serious Reporter, I sought to get to the bottom of this Fish Men phenomenon. (And for the uninitiated, yes, this is a phenomenon — there's a whole Tumblr called Men With Huge Cods.)
I took to Tinder, changed my settings to only men, made the age range 18-26 (it's usually 24-28), and cranked up that maximum distance all the way up to 100 miles from my apartment in Manhattan. Bring on the Fish Men, I thought.
But the closest body of water to me is the murky East River. I had trouble finding the Fish Men. I knew they existed, as I've encountered them plenty of times before. Where were they hiding? Was it a seasonal phenomenon, occurring in the warmer months when people are more likely to be out fishing? Or were the lack of Fish Men due to the area — maybe fewer men in New York City enjoyed fishing, perhaps? Luckily, I had some travels planned: first, the suburbs of Philadelphia, and next, South Florida. The minute I left the city and opened Tinder, boom: Fish Men.
I found six Fish Men willing to answer my fundamental question on why they post this photo of themselves on a dating app. Keep in mind, I swiped right on every single Fish Man I saw, and there are many more than my teeny sample size.
This guy attributed his fish picture, in which he stands on a boat, holding out his catch, to being one of his favorite photos of himself. "It's one of the only pictures that I look decent in," he tells me. He adds that he loves fishing and it would be "cool to have someone [to] share those experiences with."
Another person I asked, who stands in a parking lot in his picture, holding a fish, responded to my inquiry by saying he is not a fish. You read correctly. I replied that he was holding one in a picture. No response.
When I asked another guy why he thinks this Fish Men thing is a Thing, he says, "I wouldn't know, I don't see guys on Tinder." Yeah, I got no homo-d on a question about fish. Cool. He continues, "The reason it's on mine is I go fly fishing every day." Tyler says fishing is a passion of his, which is why it's on his profile. Fair.
"I mean usually when a guy catches a good fish they take a picture of it," another guy says. "I guess since we have a picture of it, we use it on social."
I can't help but wonder, though, why this seems to be a trend exclusively with fishing: What about the football players who score a touchdown? A poet reading his work onstage? Are these hobbies harder to "catch" the success — in theory, the fish?
Another guy says he would "prefer not to be part of the fish [picture] stereotype," and holds a fish nearly bigger than him in one of his photos.
"But [unlike] most of those 'googans' [people who don't know how to fish properly, and a word I 100 percent had to find on Urban Dictionary] holding fish in those pictures, I am a professional fishing guide, in Alaska and the Southeast, so it really is an authentic expression of me," he says.
Yes, he is not like other boys. He actually knows how to fish.
I don't mean to stereotype, but I wonder if cis-het men tend to take fewer photos of themselves than other groups — so when they go to make dating app profiles, they have fewer photos to choose from. They do have photos of their fishing adventures, because they're proud of their results. And maybe that explains all the fish photos. Or maybe they just like the pictures and that's it.
So, while this is no scientific method of determining the exact motivations of Fish Men and their photo selection, I can conclude from this small study that some men just... like to fish. And then take photos of their fish. And that is all!