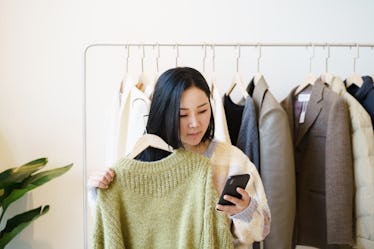 Here's How To Make Your Closet Look Like A Boutique With Products $40 Or Less
dowell/Moment/Getty Images
Your closet is the opposite of aesthetic. On the top shelf, sweatpants are thrown into uneven piles, shoeboxes are stacked to the ceiling, and bins of winter clothes are stored in plain sight. Below, your favorite cardigans hang on hangers of different colors and materials. Truthfully, it's hard to see what your outfit options really are, which is why you need this guide on how to make your closet look like a boutique.
You don't need to call in a professional organizer or the interior design-loving friend in your circle to fix up your closet. You can make your closet look like a boutique with just a few tricks and products under $50. To start, "unpack" your shelves, and decide on what you want to keep, sell, or donate. During this process, be honest with yourself and don't keep anything that you won't *actually* wear.
The next step is to start putting items back into your closet, making sure to keep any piles small and your most-worn items front and center. This is essential to maintaining your little boutique, even on those days when you say, "I don't have anything to wear!" Put your clothes on matching, streamlined hangers, and make use of stylish baskets, hooks, and catchall trays.
Boutiques look aesthetic AF because they're organized, styled, and stick to a single color scheme. For more tips, here's our carefully curated list of trendy products under $50 that will help make your closet look like a boutique:
We only include products that have been independently selected by Elite Daily's editorial team. However, we may receive a portion of sales if you purchase a product through a link in this article.