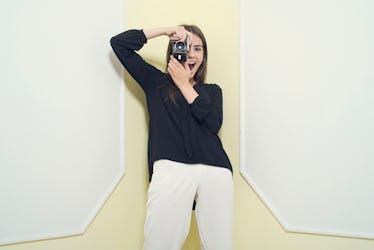 Here's How To Set Up An Insta Backdrop In Your Backyard For Stunning Pics
Francesco Carta fotografo/Moment/Getty Images
The latest trends on Instagram have included taking your circle mirror from your room and posing with it outside, and throwing a white sheet over a fixture in your backyard to create a magazine-style backdrop for your next photo shoot. Making a backdrop of your own is a clever idea, but it does require some extra work unlike carrying a mirror to your driveway and then tapping the "capture" button. With all the best tips on how to set up an Instagram backdrop in your backyard, you likely won't have any trouble snapping stunning pics for social media.
You'll toss your set-up together with total ease to the point where your BFFs and followers will ask in your comments, "How did you do that?" In response, you might record an IGTV video, showing your loyal fans your process of tracking down the right sheet, picking out an outfit, and slicing up fresh fruit that'll act as props. If you so choose, you may send them a link to this article that's filled with the tricks that led you to so much Instagram success, too.
These tricks and nifty products aren't guaranteed to land you new followers. But, that's totally OK, because the final photos will be something you're so proud of. Here's what you need to set up a trendy backdrop in your backyard any season of the year, and take the pictures of your dreams.