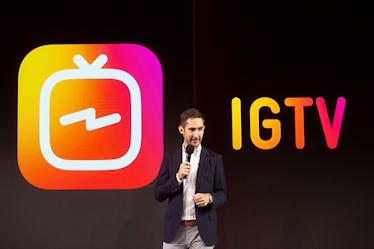 Instagram Just Announced A Huge Change To The App & You'll Be So Excited
Within the past eight years or so, Instagram users have become accustomed to browsing photography, memes, and video clips throughout the IG app. But on Wednesday, June 20, the photo-sharing app announced a new feature that will bring it face-to-face with YouTube, Vimeo, and other video streaming sites. You're probably wondering what IGTV is, and you should get excited about it, because it's definitely going to change the way you 'gram.
Instagram just made a ground-breaking announcement: They're officially launching IGTV. According to the press release, IGTV is essentially a new feature which will allow users to upload long-form videos. Users can now upload vertical videos that are up to one hour long, as opposed to the former minute-long video clips, and it's seriously revolutionizing the platform for creators around the world. Even if you aren't interested in creating anything on your own, there's a good chance you're going to enjoy this.
Per the release, IGTV is going to have its own app. However, users will still be able to watch IGTV videos from Instagram as well, by tapping a button at the top of the Instagram home screen, which is shaped like an vintage television set. It'll be right next to the paper airplane icon, where you navigate to your DMs.
Once you get there, you'll notice that IGTV is actually pretty similar to the regular old TV that all of us '90s kids grew up watching every day. Per the press release, IGTV automatically starts playing as soon as you open the app, and it'll also have individual channels that are separated by each creator. If you follow the creator on Instagram, their IGTV channel will pop up for you, and the best part is that literally anyone can become a creator. Celeb or not, anybody can upload their own videos and start their own IGTV channel. If you think about it, it's a really fantastic tool for anyone trying kick off their comedy career, travel channel, or cooking show. Whatever your talent is, you can make a channel for it, and that's pretty sweet, right?
Aside from being able to publish your content as a creator, IGTV is also hella entertaining for bored users surfing the 'gram... so, yeah, say goodbye to all of your free time. If you're not entirely sure as to what you should watch, you can choose to watch content that's curated to you based on your interests, according to the press release. To do so, just swipe up and tap "For You." You can also watch videos from your followers under "Following," well-liked videos under "Popular," or whatever you were already watching under "Continue Watching." Similar to IG, you can also like, comment, and DM videos to your friends. It's really pretty simple once you get the hang of it, and it's a new and interesting way to connect with friends and creators alike.
Don't get too amped, though, because this feature (and app) isn't going to be available as immediately for some people. According to the press release, IGTV will be rolling out worldwide over the next few weeks on Android and IOS devices. If you're even a little bit confused, make sure to head to the Instagram Help Center, because it's there to help you as a user. In the meantime, keep updating your app.
The launch of IGTV is pretty transformative in the world of creation, as well as in the world of entertainment. Not only will it make it easier for creators to have their work seen by billions of IG users, but it's literally going to be a time sucker for non-creators (like myself) all day, everyday. My productivity is seriously going to tank, but I can't wait to check out all there is to see on ICTV. Merry scrolling!