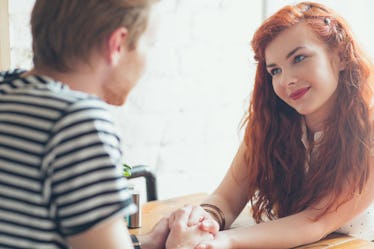 Experts Reveal How To Feel Confident Having That "What Are We?" Conversation
Defining where you stand with someone has become a crucial part of relationships these days. It's not always safe to assume that you're automatically in a relationship, even if you talk all the time, spend most of your free time together, and are only sleeping with each other. (I know.) To establish where you stand with someone, you need to have the daunting "What are we?" talk, and that's not easy for some people — myself included. If you want to know how to feel confident having that "What are we?" conversation, fret not. I have your answers, thanks to a little help from the experts.
Every relationship is different, right? So, there's not one perfect time to have the "What are we?" conversation. For some couples, defining the relationship can happen immediately. For others, it may not happen until months down the line, even after you've both already said "I love you." The timing varies, but once you establish what you are (or aren't), you can either move forward together, or move on to someone who wants the same things as you.
When you decide to have the conversation, remember that you are a star! If someone doesn't want to be with you in a more serious way, that's their loss, not yours. You will find someone who wants what you want, and that'll be the person who deserves you. But even so, when you are ready to have the "What are we?" conversation, you may still be incredibly nervous, and understandably so. Even though the conversation may not be easy, "like taking off a Band-Aid, sometimes you just have to start, even if you're scared," Erika Ettin, dating coach and founder and CEO of A Little Nudge, tells Elite Daily. And with that, let's dive into four ways you can feel confident when you decide to have "the talk."