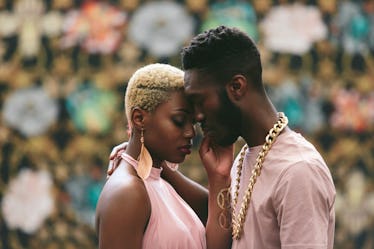 4 Signs You're Afraid To Define The Relationship, So Think Twice Before Pulling Away
My feet naturally run cold. By that, I mean sometimes it can be really hard for me to take the step from dating, to full-on relationship. It takes me a while to feel comfortable calling someone my partner, so I often take a long time to define the relationship. It's not that I don't want to take steps forward, I just find it, well... intimidating. So I hold back my heart a bit, which just happens to be one of the classic signs you're afraid to define the relationship.
For some people, progressing a relationship quickly and easily is no big deal. That's the speed that feels right for them, so, good for them. (No, I really do I mean that.) But, for some of us, it's going to take a little extra push to go from calling your love interest "someone you're seeing" to full-on SO status. And that's OK too.
But sometimes, those cold feet aren't just because you're slow to DTR. It could be your gut warning you this isn't the right person for you. Since both of those things come from subconscious fear and concern, it can be hard to tell them apart. To help with that, I reached out to NYC relationship expert and love coach Susan Winter to get her insight. That way, next time you feel uncertain, you'll know if it's just fear of the DTR convo, or something more serious.